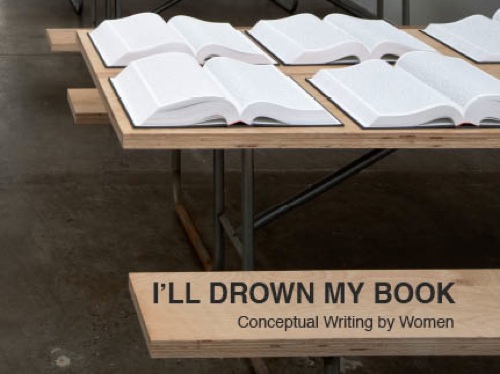 To work mine end upon their senses that
This airy charm is for, I'll break my staff,
Bury it certain fathoms in the earth,
And deeper than did ever plummet sound
I'll drown my book.
—Shakespeare, The Tempest, Act V,
Scene I
And by airy charms, we mean tangible currency: Thanks to HTMLGIANT for leading us to another Kickstarter to get behind, with 34 days to go. What is this project, you ask? Well, it's the first collection of conceptual writing by women, entitled I'll Drown My Book, to be published by Les Figues Press. The editors, who include Caroline Bergvall, Laynie Browne, Teresa Carmody and Vanessa Place, have selected work by 64 women from 10 countries. In the book, contributors respond to the question: What is conceptual writing? I'll Drown My Book offers feminist perspectives within this literary phenomenon.
The book's writer and designer, Janice Lee, wrote about it for Dear Navigator (an online journal also worth a good read). She notes that Laynie Browne explains the anthology's title as a reference to Bernadette Mayer referencing Shakespeare (as you've read in the quotation at top):
Thinking and performance are not separate from process and presentation of works. If a book breathes it can also drown, and in the act of drowning is a willful attempt to create a book which can awake the unexpected—not for the sake of surprise, but because the undertaking was necessary for the writer in order to uproot, dismantle, reforge, remap or find new vantages and entrances to well trodden or well guarded territory.
Learn more and watch the video for I'll Drown My Book at the project's Kickstarter. There, you can also find a list of the project's impressive contributors, from Kathy Acker down to Rachel Zolf.