Categories
Follow Harriet on Twitter
About Harriet
Blogroll
The Poem As Other: Amy De'Ath on Lisa Robertson, Hélène Cixous & Jacques Rivette's Frédérique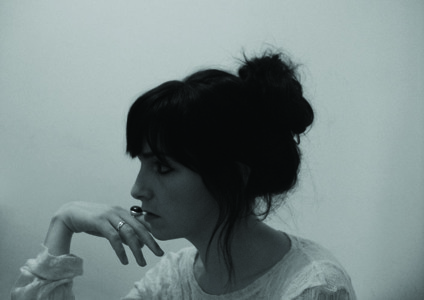 For her blog syndicat d'initiative, UK poet Amy De'Ath has penned a stellar short essay on Lisa Robertson, Hélène Cixous, and Frédérique, a character in Jacques Rivette's 1971 film OUT1, played by Juliet Berto and described here by De'Ath as Kathy Acker's "girl-pirate." De'Ath's first consideration is Cixous's altering encountering with the other ("I do not have without you and I am not without you, I is not without you; I am born of you"). De'Ath continues:
If it's possible that the other is a poem, and a poem-other that issues from me (that is, 'my-self', who is also born of you and any number of signifiers in the minds of others), what happens between me and a poem? What does my 'own' poem do to me? Tom Raworth, in an interview on PennSound, admits to having no plan in his writing, and mentions the thrill of not knowing where the poem will go. I stand (teetering!) on the brink of my own poem. Is this when everything becomes possible? I think about this in the context of my status as a woman.

Lisa Robertson asks, 'How could a subject construct temporary agencies, when the social-sexual axis would always have already cast her outside of authority, power, agency?' (Robertson, PhillyTalks). Robertson is suspicious of the Lyric which will 'Say self because it can' (14, The Weather), but along with Cixous she is careful to mention the pragmatic need for the idea of the self:

Cixous: 'I understand on the one hand that a person has a duty to examine themself, to weigh and measure themself, I ought to reply as scrupulously as possible with my ready-prepared verbal gestures. And that's what I am trying to do.'

Robertson: 'I don't know whether what "I" experience is "myself", but to some extent, in order to be useful, I have to suspend disbelief'. (PhillyTalks).

In Debbie: an Epic, Robertson writes a self-reflexive, redoubled Lyric — with a clue in the title, etc. — and in The Weather she repeats, 'Give me hackneyed words because / they are good.' (14). They are good and bad, like chips and mayonnaise, and I want to melt into them, half-gratuitously, in the course of writing a poem which erupts from lived experience and is capable of spontaneity, which listens to and gathers happy 'accident', which is an invention that brings with it the experience of not being what I believe to be, and that makes room for a language which speaks more vividly than me.

The poem as creation of an other, and a temporary agency:

'The text I write is an object of desire to me. [ . . . ] It is precisely as if I had made more than another body with my own body.'

(Cixous, 'When I do not write it is as if I had died', 1978)

which alters the self (who is nevertheless full of humour, here):

'CONTEMPORARIES!

Vocables caused a change in my organs

therefore vocables I sought'

(Robertson, Debbie, line 482)

The poem I am writing is transformative; it reveals to me that I am not who I think I am; I'm in addition someone else. 'When a girl steps forward, she does not leave herself behind,'says Robertson. Instead, 'she becomes several, and with a fidelity both passionate and discriminate.'
Read the entire piece here. Also timely: Oana Avasilichioaei's look at Robertson's The Perfume Recordist for Jacket2.

Posted in Poetry News on Tuesday, August 23rd, 2011 by Harriet Staff.