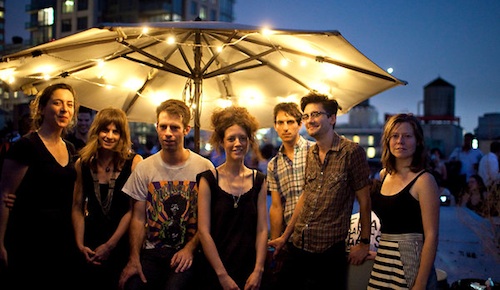 The New York Times has spotted the online art and culture journal Triple Canopy, and attended a recent party for the 13th issue (revelry included the 1986 Robert Redford-Debra Winger "art world romance" Legal Eagles, "projected against a wall and annotated, live, by David Levine, an artist with a family connection to Mark Rothko, whose death and legal troubles were the (loose) inspiration for the film"). "Alexander Provan, a party host and a founder of Triple Canopy, searched for more beer. 'If you stick around until midnight, I'm going to read the whole issue while someone plays drone music,' he said. 'It'll be really emblematic of our whole mission.'"
A joke, but that might be right! At least in terms of smart juxtaposition. And we are perhaps slightly biased (one of the journal's editors is our very own Twitter rep Lucy Ives), but we think Triple Canopy deserves all the accolades. Their next, 14th issue, edited by Ives, Sam Frank, and Dan Visel, will be published later this month and feature literary work by Ish Klein, Aaron Kunin, Tan Lin, Mina Loy & C.F., James McCourt, Lisa Robertson, and Stuart Sherman, among others, as well as previously unpublished diaries by David Wojnarowicz. Now a non-profit, the journal is moving on up:
Since its first issue in 2008 the nonprofit Triple Canopy has been a high-minded, high-design artifact, with writers and art directors from Harper's and Artforum and a sharp, scholarly wit. Starting in September it will move to its first permanent home: a storefront in north Brooklyn with enough room for lectures, performances and offices. Triple Canopy will share the space with two other creative nonprofits, the film group Light Industry and the continuing education collective the Public School. With a five-year lease on a 1,500-square-foot space, it's a step up from the temporary and borrowed rooms and rooftops the groups have used before, and a big real-life leap for a publication whose founders aimed to, as they put it on their Web site, "slow down the Internet" (italics theirs).
Read the whole article here, and better, visit Triple Canopy. We especially like this piece by Ellie Ga, from issue 11, Default Environments. Called "A Hole to See the Ocean Through," it reflects on her residency aboard Tara, a "drifting polar vessel," which has also appeared in other forms (tarot card reading, live video narration, and so on) at The Kitchen, in Hong Kong, and elsewhere.