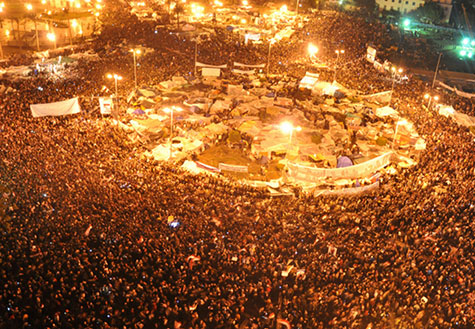 Arab Spring--the recent waves of protest and revolt throughout the Arab world--may also mean a revolution for arabophone literature. Morrocan-born poet Ben Taher Jelloun talks with Spiegel Online about the problems and opportunities facing writers in transitioning countries:
SPIEGEL ONLINE: Your recently published essay collection deals with the Arab Spring. Are you worried what will happen once the euphoria dies down?

Jelloun: Yes. These countries have been abused and scarred by dictators. Now the pieces have to be picked up slowly. The changes and reforms needed will take a long time, many years. But citizens are impatient. Their impatience is understandable -- they have fought for reform and now they want to see swift changes.
Change, Jelloun argues, will come from public expression, freed from the constraints of censorship:
SPIEGEL ONLINE: How has the revolt reflected in the literary scene?

Jelloun: I think there will be a creative boom. The fact that people are finally free means that we are seeing a surge in creativity of all sorts.

SPIEGEL ONLINE: What was the situation for writers during the dictatorships?

Jelloun: There was a lot of state censorship but there was also the powerful force of auto-censorship. Even those who lived in exile were very, very cautious. Exiled writers from Iraq and Syria, for example, could not talk or write freely out of fear for the safety of family members still in their home countries. For instance, Lebanese writers who criticized Syria and its role in Lebanon have received death threats. Samir Kassir, a Lebanese writer who published articles speaking out against the Syrian dictatorship, was assassinated in June 2005. It is widely thought that the Syrians killed him.

SPIEGEL ONLINE: How do you think European governments could best support Arab writers?

Jelloun: More support would be a good opportunity for European governments to make amends for the inexcusable things they did during the dictatorships. Arab writers' voices should be heard in Europe. They should be invited to address people and their work should be translated. They should not be invisible anymore. But their assistance should extend beyond the arts. They need to help the countries reconstruct themselves materially and politically too.
Find the full interview here, and past Harriet coverage here, here, and here.