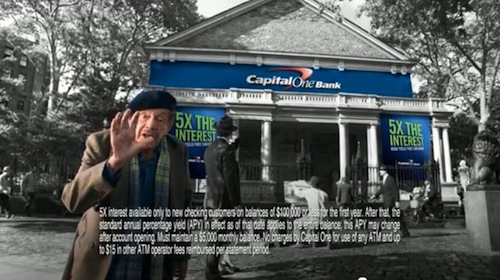 St. Mark's Church, well-known home of The Poetry Project (as well as Danspace and Incubator Arts), has been turned into a bank for an ad with Jerry Stiller. As Gothamist says, "May this be as close to being a bank as the St. Mark's Church ever gets!"
As if New York didn't already have enough bland bank branches on every corner, now they have to go and (fictionally) start taking over our churches? EVG notes that Capital One has gone and turned the East Village's beloved St. Mark's Church into a fake branch for its latest commercial with Jerry Stiller. What makes the commercial especially galling is that the corner in question already has a long history of seeing its landmarks replaced by bank branches. At least this one isn't real...for now.

Quick refresher! St. Mark's Church in the Bowery is diagonally across the street from the location of the original, late, 2nd Ave Deli which is now a Chase branch, to the south of the church is currently a bank branch which for years was a much-loved Yeminite/Israeli restaurant called Rectangles (it still exists uptown), and directly to the east of the church is the old Cafe Centosette space which this summer was the site of a prank involving a rumored bank branch. So this is a touchy place to put a fake bank!
Real touchy! The ad below.
http://www.youtube.com/watch?feature=player_embedded&v=F5c5MS70UFo