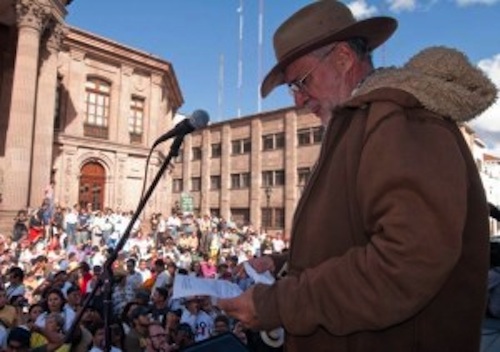 The New York Times has re-printed an essay by Enrique Krauze, editor of the magazine Letras Libres, about the poet Javier Sicilia, whose son was murdered in March, and his movement to push back against Mexico's rampant drug war violence. The essay begins:
Something amazing is happening in Mexico. A few weeks ago, a 14-bus caravan, which had been traveling under the leadership of Javier Sicilia, a poet and the founder of the Movement for Peace With Justice and Dignity, arrived here after a 10-day trek around the country. Its every move was followed by the national media, and thousands showed up to greet its return.

The caravan was organized in protest against the onslaught of drug-related violence that has cost my country 40,000 dead and at least 9,000 unsolved "disappearances" since 2006 — a few weeks ago, 35 bodies were left on a busy highway in Veracruz. It was just one part of a larger awakening of civil society here, which can be seen in the strengthened investigative efforts of the press, a more aggressive application of anticorruption laws, and the formation of voluntary associations, focused on everything from the environment to poverty.
Read the whole thing here.