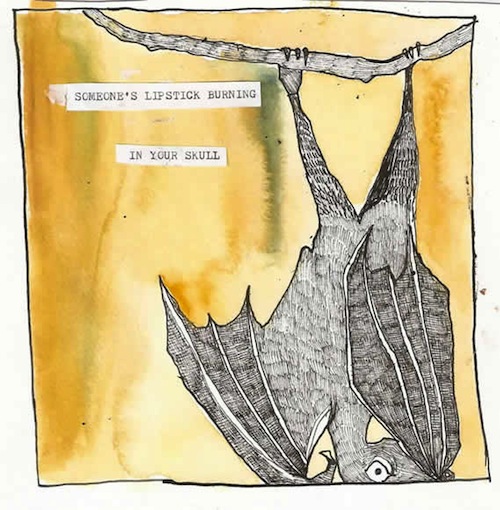 Publisher, NYFA award winner, Best American Poetry poet, and poetry-illustration expert Bianca Stone presents us with some pretty good apples in the form of poetry comics over at The The. Looks to be a new monthly feature, in fact! Stone writes:
The visual has always been an important means of communication, from caveman paintings, to graphic novels, to IKEA instruction manuals. We know it fits in somewhere with poetry, beginning with how poets and artists have always looked lovingly upon one another, and ending somewhere more uncharted. It's been proposed that the use of illustration with poetry is redundant, but what this forum is interested in is not translating the words, but a much wider vision: illustration as a kind of poetic form. Poetry and poets who interact with the visual has limitless implications, from traditional use of the comic-strip and comic book, to a much more experimental use of text and image. I wish to go boldly, willingly, into Poetry Comics, and see what people are doing out there. I'm not entirely concerned with defining what I mean by Poetry Comics, but rather seeing how many tiny silver arrows we can launch at it. And perhaps how many it can launch back at us.

Every month we will look at a new artist/poet(s). They will share some of what they love to look at and read. Let's call it Thirteen Ways of Looking At a Poetry Comic. Let's call it WTF is a Poetry Comic. Let's call it The Fallacy of the Mental Image. Let's begin.

We're going to start with the amazing poet and artist, Sommer Browning, who has done several drawings for several poems by Noah Eli Gordon's series of poems called "The Problem".
Head over here to see the collaboration, which is also forthcoming in the collection 62 Problems (1913 Press, 2014). The post also includes some great links for further reading on both Browning and Gordon. Image above: from "Practicing Vigilance," Bianca Stone, courtesy of notnostrums 6.