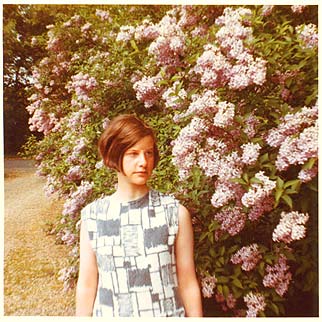 The newest issue of the Chicago Review is out, and excitingly features three unpublished essays by Veronica Forrest-Thomson, a UK poet, critic, and strict adherent to artifice who died in April 1975 at the age of 27. The essays are accompanied by an introduction and editorial notes, rounding out a feature that nicely complements a recent retrospective in The Kenyon Review just last year, which featured work on Forrest-Thomson by the likes of British poet-scholars Keston Sutherland and Sara Crangle; in addition to the publication of single poems like the famous "Identi-kit" and "Cordelia: or, 'A Poem Should Not Mean, But Be'". In the new Chicago Review, her essays stand on their own, and include:
– from "His True Penelope Was Flaubert: Ezra Pound and
Nineteenth Century Poetry"

– from "Lilies from the Acorn" (on Dante Gabriel Rossetti's
"Death-in-Love")

– "Pastoral and Elegy in the Early Poems of Tennyson"
The introduction remarks on her theory of poetic artifice:
Her most influential work, Poetic Artifice: A Theory of Twentieth-Century Poetry, published posthumously in 1978, turned sharply against critics of the previous generation, notably William Empson, and against emergent strains of historicism. The book is an exhaustive (and sometimes exhausting) defense of "all the rhythmic, phonetic, verbal, and logical devices which make poetry different from prose." According to Forrest-Thomson, such devices are responsible for poetry's most significant effect—not pleasure or ornament or some kind of special expressivity, but the production of "alternative imaginary orders." Artifice "absorbs and transforms" language, and thereby alters our experience of the world language mediates. To see this potential requires the suspension of dominant forms of interpretation—paraphrase, conceptualization, contextualization. Forrest-Thomson calls such critical response "bad naturalization."

"Good naturalization," on the other hand, begins at the level of nonmeaningful structure itself, moving outward to semantic content and eventually to the "external world." By a process of "expansion and limitation, " artifice acts as a sort of filter that enables insignificant external elements to be discarded from interpretation. As these idiosyncratic terms attest, this is an ambitious and peculiar theory. At a time when literary studies is struggling, often clumsily, to find new ways of talking about form, Poetic Artifice feels remarkably vital. The essays in this portfolio represent an application of this theory to nineteenth-century verse, an archive examined only in passing in Poetic Artifice: "One might say...that both the poetry Pound recognised, such as the Cantos, and the poetry he repudiated, such as early Canzoni, are relevant to our situation today. This matter must wait for another book, though, which will concern Pound, the 'Nineties, and the great fictionalisers, Tennyson, Swinburne, Rossetti, who lie behind them." The book she alludes to, "Obstinate Isles " (1973–75), exists only as an outline and small group of draft chapters. Even in this rough state, the manuscript is tantalizing. If Poetic Artifice was largely concerned with Modernism and its heirs—among them John Ashbery, Andrew Crozier, Robert Lowell, Anne Sexton, Sylvia Plath, and Forrest-Thomson' s teacher J. H. Prynne—"Obstinate Isles" is concerned with its precursors. As she explains in the draft introduction, "I hope, by a detailed consideration of Pound's early poetry in relation to the latter half of the nineteenth century, to help English criticism to touch bottom independently again; the most obvious means is an examination of the devalued qualities of those conventions that lift poetry away from the commonplace and which both the theme and the form of late nineteenth-century poems do stress."
Charles Bernstein also famously wrote about the poet in his essay "Artifice of Absorption." What a treat to have these new considerations from Forrest-Thomson herself to read in light of this and other previous scholarship. Order the issue here.