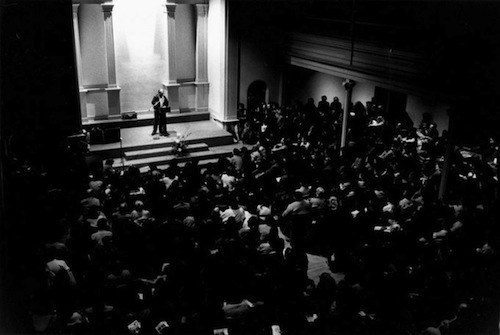 We're almost more excited for New Year's Day than for the revelry of 2011's last evening: Here in poetry land, the New Year is time for some big events.
If you're in New York, you certainly can't miss the lineup (or the chili! or the Veselka pierogis! or the book table!) at the Poetry Project's 38th Annual New Year's Day Marathon Reading:
Since Anne Waldman gathered 31 poets at the very first marathon on January 2, 1974, countless forward-facing luminaries have thrown their voices into the cauldron — among them Eric Bogosian, William S. Burroughs, Spalding Gray, Jackson Mac Low, Ed Sanders, Pedro Pietri, Helen Adam, John Cage, Joe Ceravolo, John Giorno, Ted Berrigan, Yoko Ono, Amiri Baraka, Gordon Matta Clark, Jim Carroll, Bernadette Mayer, Alice Notley, Steve Cannon, Hannah Weiner, Kathy Acker, Arthur Russell, Gerard Malanga, Suzanne Vega, Allen Ginsberg, Patti Smith, and Philip Glass. The list grows every year, as does the roster small press publishers and local restaurants who donate deliciousness in the form of astounding books, journals and food. We're not so secretly in love with them all — and with the 75 selfless volunteers too who keep the Marathon running.
More about this year's event, which starts at 3:00pm and goes till some wee hours:
An untamed gathering of the heart's secret, wild nobility — over 140 poets together revealing not just that a better life could exist, but that it already does, sexy and wise, rancorous and sweet, big hearted and mad as hell. An avenging engine of resistance and eager vehicle of the nascent year. The Marathon measures its success through insurrectionist reframings of the universe, an in-it-together courage that crafts a community out of the riot of lineages and traditions we all emerge from. This collective effort also helps fund as many as 85 additional events every year — not to mention The Poetry Project Newsletter, The Recluse and legendary workshops. It's our largest fundraiser of the year, and arguably the most inspired ongoing literary event in the city.
As for that aforementioned lineup, here you go:
Ace Mcnamara, Alan Licht, Alex Dimitrov, Amy King, Ana Božičević, Anne Tardos, Anne Waldman & Ambrose Bye, Anselm Berrigan, Ariana Reines, Arthur's Landing, Barry Denny, Basil King, Betsy Fagin, Bill Kushner, Billy Lamont, Bob Hershon, Bob Rosenthal, Brenda Coultas, Brendan Lorber, Brett Price, Bruce Andrews & Sally Silvers, Bryn Kelly, CA Conrad, Charles Bernstein, Christine Elmo, Christopher Stackhouse, Church of Betty, Corina Copp, Corrine Fitzpatrick, Daniel Kent, David Freeman, David Henderson, David Shapiro, David St. Lascaux, Denize Lauture, Dgls. Rothschild, Don Yorty, Donna Brook, Dottie Lasky, Douglas Dunn, Douglas Piccinnini, Drew Gardner, Dustin Williamson, Edgar Oliver, Ed Friedman, Eddie Berrigan, Eileen Myles, Elinor Nauen, Elizabeth Devlin, Elliott Sharp, Emily XYZ, Erica Kaufman, Erica Hunt & Marty Erlich, Erin Morrill, Evan Kennedy, Evelyn Reilly, Filip Marinovich, Foamola, Frank Sherlock, Franklin Bruno, Genya Turovskaya, Gillian McCain, Greg Fuchs, James Marshall, Janet Hamill, Jess Fiorni, Jim Behrle, Joe Elliot, Joe Ranono, John Coletti, John Giorno, John S. Hall, Jonas Mekas, Josef Kaplan, Judah Rubin, Judith Malina, Karen Weiser, Kathleen Miller, Katie Degentesh, Ken Chen, Ken Walker, Kenny Goldsmith, Kimberly Lyons, LaTasha N. Nevada Diggs, Lee Ranaldo, Lenny Kaye, Leopoldine Core, Lonely Christopher, Macgregor Card, Maggie Dubris, Marcella Durand, Mariana Ruiz Firmat, Mark Nowak, Martha King, Matthew Abuelo, Miguel Gutierrez, Mitch Highfill, Monica de la Torre, Nada Gordon, Nathaniel Siegel, Nick Hallett, Nicole Peyrafitte, Pamela Sneed, Patricia Spears Jones, Patti Smith, Paul Mills (Poez), Paul Legault, Penny Arcade, Peter Gizzi, Pierre Joris, Reuben Butchart, Rickey Laurentiis, Robert Ashley Secret Orchestra, Shafer Hall, Simone White, Sinan Antoon, Stephanie Gray, Steve Dalachinsky, Steve Earle, Steven Taylor, Susan Landers, Susie Timmons, Suzanne Vega, Taylor Mead, Ted Dodson, Ted Greenwald, Thurston Moore, Todd Colby, Tom Carey, Tom Savage, Tony Towle, Tracey McTague, Tyler Burba, Wayne Koestenbaum, Will Edmiston, Will Yackulic, Yoshiko Chuma, Youmna Chlala, Yuko Otomo, Yvonne Meier, Nicole Wallace, Arlo Quint and Stacy Szymaszek.
Admission is $20 for non-members, $15 for students and seniors, and $10 for Poetry Project members. All proceeds go to support the life of the organization. We hear you can also volunteer for a couple hours and get your body in for free (write to info at poetry project dot org).
A few weeks later and a few states away, Woodland Pattern will be celebrating and raising funds with its own marathon reading, its 18th! From their site:
Every year, on the last Saturday of January, dozens of local and regional poets, writers, and performers show their support for Woodland Pattern by participating in its Annual Poetry Marathon & Benefit. Each writer presents five minutes of work to a packed house and raises pledge money the supports Woodland Pattern programming for the coming year.

Hundreds of people faithfully turn out for this vibrant community event. Last year's Marathon drew an audience of over 500 people, and featured 143 readers. Through the funds brought in by readers and the generosity of donors, we were able to further support programming for Woodland Pattern during the calendar year of 2011. We expect to have another great turnout in 2012 and hope that you can be a part of our legacy!

You can help invigorate the literary arts community in Milwaukee by participating in the Poetry Marathon. It is not too late to sign up to read, become a donor, or begin to tell friends about the event. We hope to see you on January 28th: your spirit and energy is as important as anything in kicking off another year of great poetry and art at Woodland Pattern.
Check out sign-up info and the impressive lineup of poets here. Photo at top of the Poetry Project's Marathon Reading, 1986. Taken by Jacob Burckhardt.