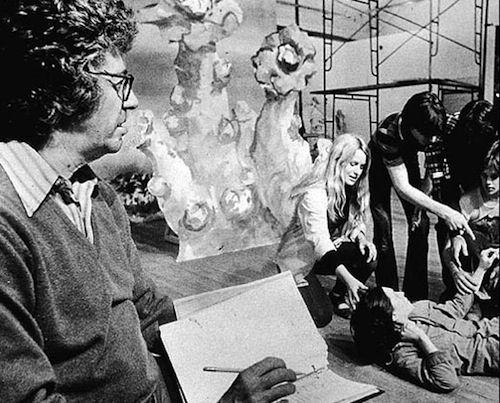 Happy Birthday, Kenneth Koch! Koch would have been 87 today. We really like this interview between Koch and John Ashbery, republished by This Recording last January, and originally printed as a chapbook, "A Conversation with Kenneth Koch," in 1965 (Interview Press). At top, Koch rehearsing for a play in 1977. Amazingly, Ashbery and Koch could endlessly talk about ambiguity:
JA: ...Getting back to my favorite theme, the idea of relief from the pain has something to do with ambiguity. Ambiguity supposes an eventual resolution of itself, whereas certitude implies further ambiguity. I guess that's why so much "depressing" modern art makes me feel so cheerful.

KK: Could you go back now and explain what you felt when you wrote those lines about the berry?

JA: Afraid not. I had even forgotten the lines, let alone having written them. And this has some bearing on our topic of discussion.

KK: Many poets don't ever forget what they've written. I can see our forgetting our lines either as good or as bad. Do you forget any place in which you've lived or anything you've liked very much? I mean within the last five years.

JA: I don't quite see what the point of that is. I mean writing a line of poetry isn't the same as living someplace.

KK: I was just thinking of how your forgetfulness might be criticized – that is, from the point of view that what you write doesn't mean enough to you for you to remember it. I don't agree with this criticism at all. I just thought my remark might stir you into explaining why you don't necessarily remember your poems.

JA: If you don't agree with this criticism, then perhaps you'd be kind enough to explain why, since I fear it's a very telling one.

KK: I don't believe that you do. If you did you'd memorize your poems.

JA: It seems to me that forgetting plays a bigger role in our poems than either of us is willing to own up to. Not only do we forget the place where we live, as I pointed out earlier –

KK: You did not say that. You said we didn't write about the place in which we live.

JA: Well, we might just as well have forgotten it, for all the difference it makes. Also what about sex, which seems to make no appearance in either of our works - that I can think of at the moment.

KK: Do you mean the details of sexual intercourse? Practically every poem either of us has written seems to me to be about love in some form or another.

JA: Well, so what happened to those details?

KK: I hope they are still there.

JA: Look again.

KK: Yes, I've just gotten word that they are still there. On the other hand, there are a number of things that would not be out there at all if we didn't write about them.

JA: Does this mean that you think these things are important?

KK: What things?

JA: What it is that's there.

KK: Do you mean the things we write about or the details of physical love?

JA: The things that wouldn't be there unless we wrote about them, blockhead.

KK: It is you who are the blockhead for not making your questions clearer.

JA: Maybe this has some bearing on the topic of our discussion.

KK: In what way?

JA: I can't remember what it was that we were talking about.

KK: You seemed to be talking about ambiguity; and then you seemed to think that being a blockhead had something to do with it.

JA: I think we should clear up the question as to whether the ambiguity in our work is the result of modern life's having made us so ashamed of our experiences that we cannot write about them in any other way, or whether we feel that if we turn quickly around we'll discover something that wouldn't have happened otherwise.

KK: The first possibility you mention I don't understand – how can "modern life" make us ashamed? – but the second is very appealing. I don't feel, by the way, that what I am after in my work is ambiguity.

JA: What do you feel that you are after?

KK: Guess.

JA: I give up.

KK: Do you mean to say that you have been reading my poems all these years thinking ah there he's succeeded in getting that ambiguity he's after, and oh there he hasn't? I mean you don't really think that a main aim in my poetry is to be ambiguous, do you?

JA: Well, it would help if you would consent to give a straight answer to my last question.

KK: I think the difficulty of my doing so has considerable bearing on the topic under discussion.

JA: Since you refuse to reply unambiguously, I must conclude that ambiguity is the central thing in our work.

KK: I have always liked your poetry, but your command of logic leaves me speechless with admiration.

JA: Perhaps this has some bearing on the topic of our discussion.

KK: I don't see how.

JA: I assume you were being ironic when you said my command of logic left you speechless with admiration. Therefore poetry is not logical or is not necessarily so.

KK: What you say is very unclear, but I suppose you mean that since I find one of your remarks illogical and since I like your poems, that therefore I must like poems which are illogical. But I don't find your poems either logical or illogical. If you want this interview to have the logic of a poem and not ordinary logic we will have to start over again.

JA: If you don't find them logical or illogical, then what do you find them?

KK: Your question doesn't make any sense.

JA: Neither does your poetry.

KK: Do you think there's only one way of making sense? (We seem to be trying to trap each other into making pompous statements.)

JA: Yes, we seem to be determined both to discuss poetry and not to discuss anything at all. This is probably what we do in our poetry. I only wish I knew why we feel it to be necessary.

KK: I should think that if we really wanted to know why we felt it to be necessary that we could probably find out. I don't think we really care.

JA: You're right.
Read the entire conversation here.