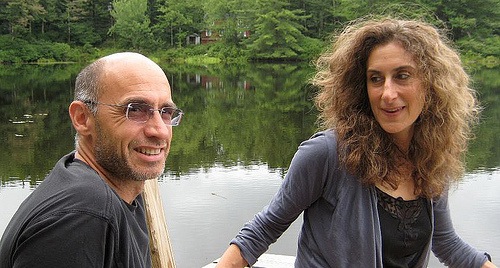 Photo by Jena Osman
Buffalo's Electronic Poetry Center has rounded up, for her author page, the obituaries and remembrances for Stacy Doris that are making their way around the internet. Included on the page now are links to pieces from Ann Lauterbach, SF State's Golden Gate Express, PennSound and Libération notices; and a couple from France. Also on this page are responses to Stacy's work from the likes of Charles Bernstein, Lisa Robertson, Cole Swenson, Jackson Mac Low, Sianne Ngai, and Laurence Perez; and an extended biography.
Importantly, we'd also like to show you what Rob Fitterman had to say in a lengthy Facebook post about Stacy's writing and context (look to a future issue of The Poetry Project Newsletter for an extended form of this):
Stacy was a centrally important poet to my generation—a serious, sophisticated, active and gifted artist, who was struck down literally in mid-stride. I want to pay tribute to her major contribution as a poet.

Some history: There is an under-appreciated precedent in poetry to what is now termed Conceptual Writing that can located in a few writers from the mid-1990's, mostly women, working in what I have called radical appropriation. These poets (Spahr, Ngai, Rosenfield, Neilson, Morrison, Goldman and others) were taking their lead from Appropriation Art of the 1980s (Pictures Generation) and a new wave of feminist theory. It was a distinctive shift from collage in poetry because the appropriated source material was fore-fronted in new and exciting ways. For Stacy, we can read this in the video game language of Kildare and the appropriated album of classical verse forms (with Michael Jackson as the central character) in Paramour.

But like many great artists, Stacy was restless. She seemed to depart from what she did best. Her earliest poems are brilliantly terse and minimal, but she once told me that she had become bored with that form. Her last 3 books, for me, continue to investigate a preference for appropriated forms that reach for new ways to make meaning... stridently individual, I might add, with a vision for exploration that is stunningly unexpected. This is especially true of her poem KNOT—a book-length poem of consistently long lines that disrupt conventional grammar by confusing subject and pronoun agreement, as well as verb endings and possessive apostrophes. Much has been written about these grammatical choices (e.g. the reader's role as rule-maker, editor, etc.) but this was a period in Stacy's life that was challenged by the potential addition of family and subtraction on a global scale. For me, the ungrammatical agreement strategies point to a life con-fused with others (plural) and without others (singular), to have a child (possessives) and not have a child (singular verb forms with "s"). For instance, what do we do with the ungrammatical "anyone explode"...is it a command? Has the singular turned plural? A similar problem occurs in "What gather's radiation."

Bitten, feasted upon, anyone explode. Breaks out thus released where / What gather's radiation. We's nullify, and so caught, repeat. Freed, we laps...

This is some of Stacy's most powerful work, where her nuanced strategies inform her private and public worlds. However, as in most of her work, these strategies co-exist with a more direct constancy that operates as foil, or anchor, or a constant to the variable. It's like the paint outside the rigid lines of a Blinky Palermo canvas. Further along in KNOT, Stacy writes:

...But breathing counts / Down. Each movement of respiration encodes terror, which flourishes in / Everyone thus, in the midst of hunger and abundance, in the speed of love. / No tourniquet dispels it.

These final words pretty much take my breath away...
EPC also tells us that memorial services and gatherings are being held in San Francisco, at the San Francisco State Poetry Center on April 19 and 20, in Paris, organized by Double Change on February 19 (6pm gallery EOF), and in New York on Feb. 18 at 7pm.