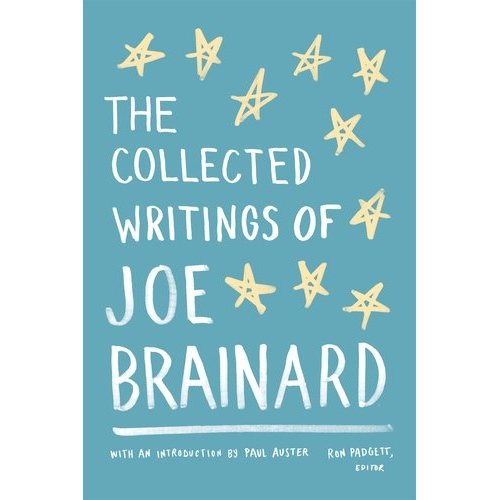 Hooray! We still want to train up to Bard for Joe / Brains / Lamar, but in the meantime, we can totally read The Collected Writings of Joe Brainard, which hits bookstores March 29 and is available NOW from the Library of America warehouse at 25% off plus free shipping (!!). Here's the Table of Contents. And more information on the book, courtesy of the LOA website:
"Writing, for me, is a way of 'talking' the way I wish I could talk."

In New York's vibrant art and poetry scenes of the 1960s and 70s, Joe Brainard occupied a special place. An artist of diverse and extraordinary gifts, he worked prolifically in a dazzling range of media, creating cover designs and interior art for some of the most significant books of the period and experimenting with the mixing of poetry and comic strips. The publication in 1970 of his one-of-a-kind autobiographical work I Remember showed that Brainard was also a writer of originality, grace, depth, and distinctive humor. I Remember has become a contemporary classic, of which the poet James Schuyler said: "It's a great work that will last and last—in other words, it is literature."

Here in one volume is the full range of Joe Brainard's writing in all its deadpan wit, effortless inventiveness, personal candor, and generosity of spirit: the complete text of I Remember, along with an unprecedented gathering of intimate journals, stories, poems, travel diaries, one-liners, comic strips, mini-essays, and short plays, many of them until now available only in expensive, rare editions. Using apparently simple means to achieve complex and surprising effects, these works turn the most everyday experiences into occasions for startled contemplation. "Brainard disarms us with the seemingly tossed-off, spontaneous nature of his writing, and his stubborn refusal to accede to the pieties of self-importance," writes Paul Auster in his introduction to this collection. "These little works ... are not really about anything so much as what it means to be young, that hopeful, anarchic time when all horizons are open to us and the future appears to be without limits."

Assembled by the author's longtime friend and biographer Ron Padgett and presenting for the first time fourteen previously unpublished works, The Collected Writings of Joe Brainard provides long overdue recognition of a singular literary talent and a terrific person whom readers will come to love.

Ron Padgett, editor, is the author of many books of poetry, including How to Be Perfect, You Never Know, The Big Something, How Long, and Great Balls of Fire, as well as Joe: A Memoir of Joe Brainard.
Also, check out the Library of America Joe Brainard Facebook appreciation page for future and present info.