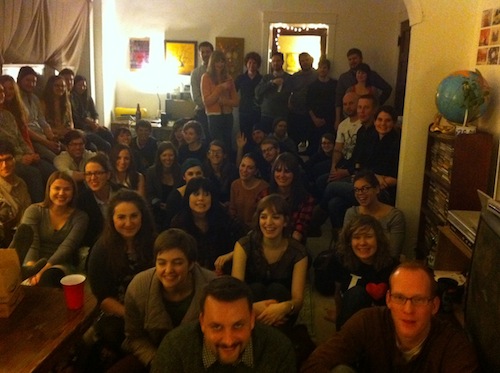 The Chicago based reading series, hosted by Dolly Lemke and Stephen Danos in Lemke's living room, is a gem for Chicagoans, and a worthwhile road trip for those in the area. The series features local and regional poets in person as well as guests from further away, via Skype. Heather Christle, Matthew Zapruder, and Dorothea Lasky have all Skyped in so far. Traci Brimhall, who recently read at The Dollhouse, wrote about the experience for Her Circle.
She states:
I have been lucky enough to read in a variety of places—colleges, libraries, book art centers, art galleries, book stores—but there's something different about reading in your socks right next to a stranger's bedroom while a cat cautiously inspects your big toe. Sure, some things are still the same—picking poems to read, getting nervous, saying something foolish in between poems—but it also feels comfortable, intimate, strangely safe. In between readers, there was a break to grab another beer and talk. People seemed to either already be friends or making friends. Rather than a space where people experience the same poems separately, it seemed like a place that was forming and reaffirming a community.

Rather than seeking out a venue, arranging for keys, lighting, sound equipment, promotion and all the other technicalities of a reading, all that was needed was a living room and a tumbler. Sometimes I talk myself out of ideas I have for poetry because I say I don't have the time or the energy for that idea. And reading series take work. Lots of it. But it doesn't have to. Poetry should reach as many people as possible in as many ways as is possible—including on couches with a good beer in hand, and perhaps a cat or two. Whatever creates space for fellowship and language.
Do check it out!