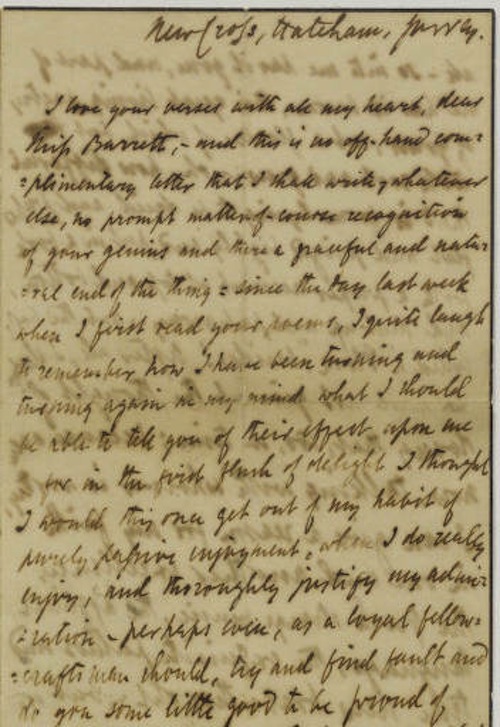 A collaboration between Wellesley College and Baylor University have made 573 love letters between Elizabeth Barrett and Robert Browning available in a digital format. They release today, Valentine's Day.
A bit on how this came to be, via The Guardian:
Barrett, one of the most well-known poets of the Victorian era, suffered from chronic illness and was in her late 30s when Browning first wrote to her in 1845 to tell her he admired her work.

In their fifth month of corresponding, they met for the first time, introduced by Barrett's cousin.

After more than a year of almost daily letters between them, the couple wed in secret in September 1846, defying her father's prohibition against her ever marrying. They fled from London to Italy, where doctors had told Barrett her health might improve. Her father disinherited her and never spoke to her again.

"It's the fact that she defied her father, she was in ill health, they fell in love through letters, she left with hardly anything," said Ruth Rogers, Wellesley's curator of special collections.

"If you want a perfect romance, just read the letters," she said.

The website set up for readers to see the correspondence includes both the handwritten letters and transcriptions, as well as a zoom function for readers to try to decipher faded or illegible words. The body of letters will also be searchable by keywords.

Henry Durant, who founded Wellesley College in 1870, admired the Brownings and considered Elizabeth Barrett Browning to be an example of a strong, educated woman who would be a good role model for the young women of Wellesley. Durant gave his large personal library to the college, including many first editions by both poets.

Because the college was already known for its Browning room and collection, Robert Browning donated Elizabeth's handwritten poem, Little Mattie, to the college in 1882.

A former Wellesley president, Caroline Hazard, purchased the collection of Browning letters and in 1930 donated them to Wellesley, where they have remained.