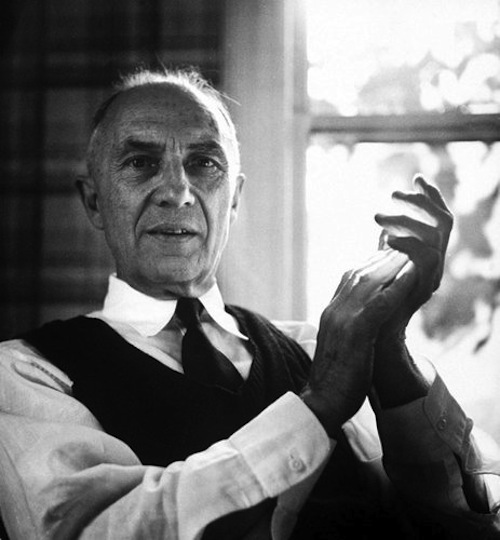 Adam Kirsch has a long piece on William Carlos Williams in The New York Review of Books. He considers a few recent publications dedicated to WCW's work—including a critical biography by Herbert Leibowitz and a collection of essays by Wendell Berry—and asks an intriguing question: why is it that "almost fifty years after his death, the reputation of William Carlos Williams still seems to be haunted by a ghost of uncertainty?"
Both Leibowitz and Berry grapple with this criticism in their books (paraphrasing various doubters who portrayed Williams as shallow, overly-sentimental, and inattentive to form) before concluding that much of it came from the poet himself, who was deeply self-critical:
One of those themes is Williams's sense of inferiority and self-doubt. "Let the successful carry off their blue ribbons; I have known the unsuccessful, far better persons than their more lucky brothers," he says in the Autobiography; but this was a case of protesting too much. More revealing is the letter, quoted by Leibowitz, that Williams sent to his son, William Eric, when the latter asked for a copy of his latest book:

You say you'd like to see my book of poems. What the hell? Let 'em go. They are things I wrote because to maintain myself in a world much of which I didn't love I had to fight to keep myself as I wanted to be. The poems are me, in much of the faulty perspective in which I have existed in my own sight—and nothing to copy, not even for anyone even to admire.

This diffidence never left him: when he was preparing his last book for the press, Leibowitz writes, Williams grew so anguished that he "tore the manuscript to pieces and dumped them in the trash." His wife had to fish out the fragments and mail them to his publisher, James Laughlin of New Directions, "who put them together like a jigsaw puzzle."
There are various reasons Williams might've felt like an outsider or an inferior among the other modernists—poets like T.S. Eliot, Wallace Stevens, and H.D., who all wrote poetry considered more allusive, theoretical, and "difficult" than Williams'—but an important one might have been the fact that he was so rooted in his hometown of Rutherford, NJ, where he worked as a doctor. Of course, this long-standing commitment to the local is a big reason why Berry adores him:
To Wendell Berry, whose life has been spent in the very different environs of rural Kentucky, Williams's intense rootedness in place is a major part of his example and legacy. He praises "Williams' lifelong effort to come to terms with, to imagine, and to be of use to his native and chosen place." This "local adaptation," as Berry calls it, has more than literary implications: in the course of the book, it becomes an ecological, economic, and political creed.

Fundamental to this interpretation of Williams is the idea that he and his poetry benefited from being so closely tied to Rutherford. "As a part of the necessary conversation of a local culture," Berry writes, "poetry becomes more urgently important than it can ever be as a high-cultural or academic specialty." Leibowitz picks up on the same theme when he writes about Williams's funeral in 1963: "The chapel was filled with family and friends and a large crowd of townspeople…. By that turnout, his devotion to the local was honored and vindicated."
There are many great details and anecdotes in the piece, including a painful story about Williams' trip to Paris in 1924 and his obsession with plants. Read the article in its entirety here.