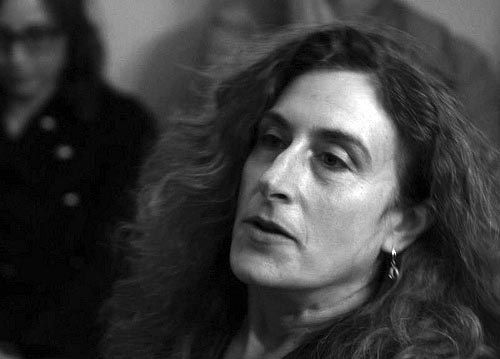 We at Harriet are deeply saddened to report the loss of poet and translator Stacy Doris, who died on January 31 at the age of 49 after a battle with cancer. We discussed Doris's book-length poem The Cake Part (Publication Studio, 2011) just recently. This work, which acts as "an eruption of all the repressed joy and terror of [the] 18th century revolution, back into our time, into the 21st century," was released with a series of video adaptations of the book, in which many of Doris's poets and friends in the Bay area and beyond enacted their parts or songs with a rather plucky and loving spirit. It's clear that Doris "begins with complexity and mixture and continues with complexity and mixture."
In April of last year, Eric Baus pointed us to a recording of Doris reading "Love Letter (Lament)," which appears in her book Paramour. The poem begins with a note to the reader that Baus excerpted from:
"It was written between 1995 and 2000 in the South of France and in North America by a willful female author who, nagged and baffled by questions of poetic form's future, set out, as if she had all the time in the world on her hands, to catalogue, through strategies of parody and vivisection, an eclectic variety of Western Prosodic models. For subject matter the theme of love, certainly the most prevalent topic of poetic tradition, was readily selected."
A willful female author, indeed: Her books included Paramour (Krupskaya, 2000) and The Cake Part, as mentioned, as well as Knot (University of Georgia Press, 2006), Cheerleader's Guide to the World: Council Book (Roof Books, 2006), Conference (Potes & Poets, 2001), Une Année à New York avec Chester (P.O.L., 2000), La vie de Chester Steven Wiener ecrite par sa femme (P.O.L., 1998), and Kildare (Segue Foundation, 1994). Poetry Center Director Steve Dickison tells us that a new book of poetry, Fledge, will be published this Spring by Nightboat Books.
Doris was also a translator, noted for her work with contemporary French poetry: She co-edited two anthologies, Twenty One New (to North America) French Writers (Raddle Moon, 1997) and Violence of the White Page (with Emmanuel Hocquard, Tyuonyi, 1991). She also contributed translations to Aufgabe's recent vital feature on French poetry and poetics.
Dickison writes that "Stacy moved to San Francisco with her husband Chet Wiener to begin teaching for the Department of Creative Writing at San Francisco State University in the Fall of 2002. An innovative and powerful teacher, she deeply influenced her many students. The Poetry Center is planning events for mid-April in celebration of her life and work, as poet, translator, and teacher." Watch their website for more information.
Via The Poetry Project, we've also heard that poet Laynie Browne is collecting written responses to the life and work of Stacy Doris for The Volta, where Browne is a contributing editor. Those interested in contributing can send submissions to info at poetry project dot org.
Our hearts go out to Doris's friends and family. A film of her reading in Paris, 2007.