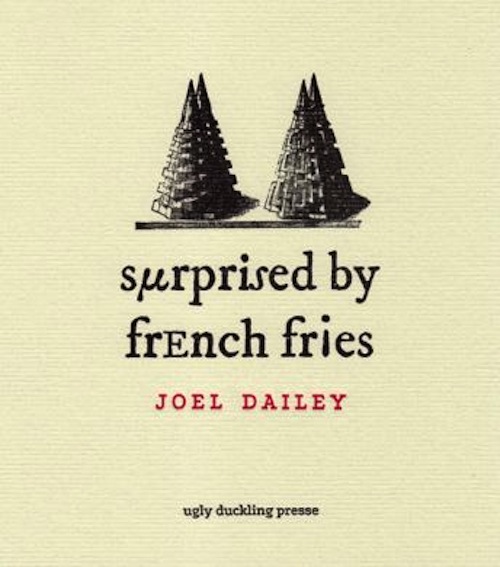 An interview with the awesome Joel Dailey has just appeared at Camille Martin's blog Rogue Embryo (watchout)! Dailey, as you may know, is the author of the recent Surprised by French Fries (Ugly Duckling Presse 2011), among many many other titles (as Martin mentions), those who "have published [his] chapbooks read like a who's who of renegade small presses from the 70s to the present: to name only a handful, Pentagram, Shockbox, Rumba Train, Blank Gun, Semiquasi, Lavender Ink..."
Dailey lives in New Orleans, and is the publisher of over one hundred issues of Fell Swoop, "which takes its cue from the great mimeographed zines of the 60s such as Ed Sanders' Fuck You: A Magazine of the Arts. That makes it one of the longest-running small press magazines on earth." Dailey and Martin talk about about the poetics of satire, Dailey's poetry in Rolling Stone, small presses, poetic influences (such as Ted Berrigan and Anselm Hollo), and the magazine and its relationship to Hurricane Katrina, among other things:
CM: ...What's the history of the Swoop? If there's a secret to its longevity, does it come in a convenient, easy-to-swallow capsule? And do we dare to hope that it will never, ever, bow out gracefully?

JD: It's really a newsletter for the Insane or the Inane; it's a bad habit and I'll probably go blind from keeping at it….I've vowed to quit producing the Swoop dozens of times, but always returned to do another issue. I enjoy making the issues and sending them out….I guess when I stop enjoying the process, I'll quit it. Our stated mission is to destroy American Literature, with a spotlight on Am Po, but truly Am Po is proving adept at destroying itself; it's fraught with self involved careerists who are churning out Real Drivel (as opposed to Unreal Drivel, which might be more interesting)—and getting rewarded for it, as they slime trail along their "career paths" to Hooterville….

History? The right Reverend Richard Martin has been a contributor to every general issue; he is also our Resident Historian, a non-paying and rather cramped position….the magazine was born the summer Ted Berrigan died, in the early 80s. My reaction to his death was to create something, and so the Swooper was birthed and has continued these many years, publishing hundreds of engaging and worthwhile writers—including you, Camille…..

CM: It has been a privilege to contribute to the Swoop's worthy cause of general mayhem.

Speaking of mayhem of a different sort, you and your family were greatly affected by Hurricane Katrina. Your home was flooded and you were displaced for months. I'll never forget when you Fed-Exed your house key to me from your Pennsylvania home-away-from-home, so that I could sneak back into New Orleans, still under mandatory evacuation, and check up on your two cats.

In post-apocalyptic New Orleans, there was a point when Fell Swoop aficionados wondered whether the magazine would survive the disruption and continue to inject us with an antidote of impertinent chutzpah on a semi-regular basis. Après le deluge, what has given you the grit to forge ahead with your magazine, your poetry, and life in general?

...

JD: Katrina spawned a lot of things: reconstruction, displacement, suicides, divorces, widespread fraud—and I have to tell you, HK "inspired" a lot of terrible poetry. Of course HK affected me personally, as you point out, but in terms of my writing, it added a layer, another post-apocalyptic level. We literally started over here and did without numerous comforts people take for granted. There was no mail delivery in Orleans Parish for weeks, so the Swoop rented a po box in nearby Metairie in order to receive and send dispatches; we published an issue with Joe Brainard's adapted and adopted beloved comic character Nancy on the cover screaming "Help!" We're the better for having experienced HK I think; the city is stronger and making a comeback. It was a lot of work mixed with truckloads of Uncertainty, but, hell, the terms of existence bleed Uncertainty—we foolishly convince ourselves that we're secure. Olson's warning comes to mind, "Beware of Permanence!" Part of returning to the 'normalcy' of my life after HK was getting back to writing; the hurricane changed many things but not my continued and continuous absurdist view of the world and peddling it through new poems.

CM: Are there any top-secret projects in the wings that you'd like to spill to WikiLeaks?

JD: I wish I had a top secret or a top hat project to give you and your readers a scoop, but o and alas. We just released The Human Bond by Clark Coolidge, a single author issue. This is Clark's recent James Bond sonnets—not to be missed. He is a very interesting writer whose work I obviously value, a writer who's sort of flying beneath the radar, but his work pushes limits and buttons and it does and has been doing so since the 60s. Another recent single author number is The ABC Of Duck, by a creature named Duck Martian, an alphabetical work; this feathered fowl definitely knows his ABC's. So interesting material is still being created, and Fell Swoop is proud to offer these works to an adoring public. . . .
Read more here. Martin has also included a rare lineup of images of Dailey's chapbooks, from 1976 to the present.