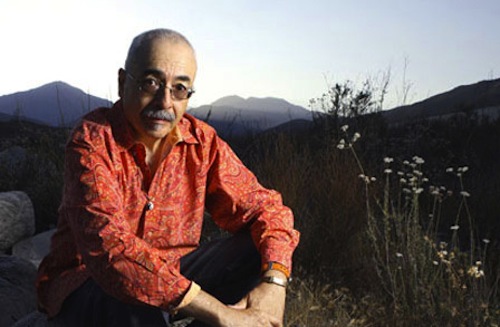 Jacket Copy tells us that Juan Felipe Herrera has been appointed California's Poet Laureate! Remarkably, Herrera will be the first Hispanic writer to serve in the post. More:
Herrera currently holds the Tomas Rivera Endowed Chair in the department of creative writing at UC Riverside. In addition to works of poetry, his 23 books include prose, short fiction, young adult novels and books for children. His accolades include a Guggenheim Fellowship in poetry, National Endowment for the Arts writers' fellowships, California Arts Council grants, the UC Berkeley Regent's Fellowship, the Breadloaf Fellowship in Poetry, and the Stanford Chicano Fellows Fellowship.

His 2008 collection "Half of the World in Light" was a winner of that year's National Book Critics Circle award in poetry. "Herrera's work is informed by his participation in the cultural and historical Chicano Movement of the 1960s, by a strong influence from Allen Ginsberg and the Beat Generation, and by an awareness of Mexico's intimate and conflicted relationship with the U.S.," wrote book critics circle board member Rigoberto Gonzales. "Indeed, Herrera inhabits, critiques and re-imagines the borderlands between Spanish and English, barrio-speak and academic philology, Mesoamerican myth and popular culture, to give readers a unique and original lens through which to view contemporary society in the Americas."
The California Governor's office tells us that:
Upon his receipt of the PEN Beyond Margins Award in 2009, the University of Arizona Press wrote, "For nearly four decades Juan Felipe Herrera has documented his experience as a Chicano in the United States and Latin America through stunning, memorable poetry that is both personal and universal in its impact, themes, and approach. Often political, never fainthearted, his career has been marked by tremendous virtuosity and a unique sensibility for uncovering the unknown and the unexpected."