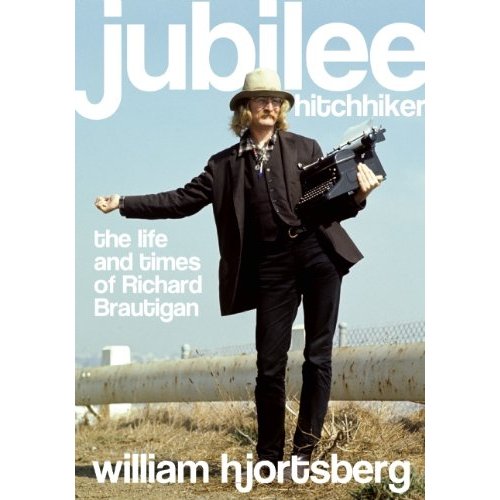 Oh goodness. The new, long-awaited Richard Brautigan biography, Jubilee Hitchhiker, written by novelist and screenwriter William Hjortsberg, weighs in at 880 pages. Published by Counterpoint, it's to be released in April. More from Oregon Live on the publication:
Hjortsberg, who admits to a complicated relationship with his subject and appears as a character in "Jubilee Hitchhiker," worked on this biography for 20 years. He did hundreds of interviews, read everything by and about Brautigan, and obtained unprecedented access to archives.

During the course of research, he even discovered primary Brautigan material that had been locked in a safe-deposit box in Eugene for 30 years.

Hjortsberg deserves an honorary doctorate for his gumshoe work. Literary historians will be forever grateful for the rich materials he gathered.

The challenge in reading "Jubilee Hitchhiker" is that Dr. Hjortsberg -- and his editors -- let the vast material take control. The details, minutiae and frequent day-by-day plotting of activities erode, rather than serve, the overall project.

Does a reader really need to know that "at 5:17 am on the morning of May 13, he woke up at Valerie's side" then later that same day "cruised east on TWA flight 703"?

"Jubilee Hitchhiker" could serve as Exhibit A in making the case for enhanced ebooks: Create a tight 300-page biography that's jam-packed with links that allow readers to go in deeper ... if they so desired.

Much of the early part of "Jubilee Hitchhiker" takes place in Eugene, where Brautigan grew up poor. After graduating from Eugene High School, he fell madly in love with a 14-year-old girl, who was simultaneously intrigued and creeped out by his love poems and stories for her.

...

When Brautigan left Oregon, he hitchhiked south and eventually landed in San Francisco. It was 1956, and Hjortsberg writes a fabulous treatment of the dynamic literary scene in and around North Beach. Jack Kerouac, Allen Ginsberg, Jack Spicer and Lawrence Ferlinghetti's bookstore City Lights all make appearances.
Read more about the book here.