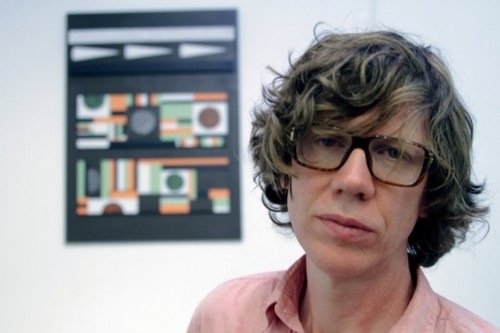 Thurston Moore (co-editor of the new Flowers & Cream Press) made his way across the pond last week to read with Tom Raworth (with special guests Alex Ward and Steve Noble). The event, called "Poetry and Noise," was curated by Moore, and announced only a week in advance. LondonJazz has a writeup of the night! It's almost like we were there!
A bubbling anticipation greeted Moore as he ambled onstage to introduce Tom Raworth, the London-born 'perennial Englishman poet', whose writing he greatly admires and whom he met 6 years ago in Chicago at the poet's week-long gallery residency 'in cahoots' with Peter Brötzmann. Moore explained that his fascination with underground poetry was fuelled by the discovery of 'Outburst', the hand typeset magazine which Raworth produced from nearby Amhurst Road in the early sixties. In turn, Moore has founded the small press imprint, 'Flowers and Cream' and edits the 'Ecstatic Peace Poetry Journal'.

Moore set the stage for Raworth with his own readings from a nervously shuffled sheaf of papers, where music-obsessional references were entwined with unsettling and visceral imagery. From his opening poem, 'The Book Thief', the line, 'rock and roll poetry and girls lost in it', delivered with a touch of self-mocking humour, elicited a ripple of conspiratorial chuckles, as did his statement that 'feedback is not war'. Musing on 'the dynamics of the living word', he made way for the sprightly Raworth, whose sharply focused, fast-flowing diction pulled the audience through both humorous and challenging plays on language, not without political twists and turns. 'Out of a Sudden', 'Crowded with Otiose Passengers' and 'Pyrophoric', each less than a minute long, shared the guise of descriptive narrative, but, as with the poems of J H Prynne, linked words and images in unfamiliar, discomfiting juxtaposition.
As for the "noise" portion:
The other side of this event, devoted to totally improvised noise deviance, goes back 16 years when Moore and Ward recorded 'Legend of the Blood Yeti' (Infinitechug Records) with Derek Bailey, and to Ward's duo of 20 years standing with Noble. In the first set duo, Alex Ward's extraordinary clarinet pyrotechnics combined with Moore's jarring searches for dense pools of raw respite. As Moore worried his battered, sticker-emblazoned guitar, on his lap at first ('I love chaos' proclaimed one decal, ominously), plucking out chimes and echoes to invoke a bleak, uncertain landscape, Ward trilled intensely and moved on to ear-bending wails. In close unison they built up a confluence of shrill, fractured discord. Moore's soaring and clanging chords accelerated to a devastating physical roar, and he finally mined the guitar for a fade to a distant metallic glimmer.
Read it all here.