Domesticity is one of those "topics" that make me hostile. To be specific, the expectation that as women we relish (and languish) without resistance in domesticity is what makes me hostile. Certainly, a big part of my hostility has to do with what I previously blogged, about women not having access to a world other than the domestic world, about women prevented from accessing the "big" world outside their doors, and ultimately, not having any kind of recognition for the hard work and creativity which domestic work, reproductive work entails.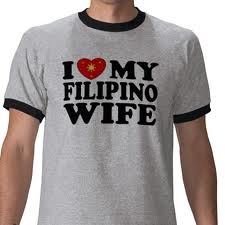 I recall now, another Pinay writer telling me once that she didn't want to be someone's "wife," for all of what "wife" apparently implies ("hussy" does come from "housewife"). Let's compound "wife" with the descriptor, "Filipina." "Filipina wife." Images that come to mind, people? Lord knows that as a Filipina wife myself, there have been times that I've walked into the world already in defensive posture, just waiting for someone to give me a reason to take him or her to task.
So here's an excerpt of this awesome little poem by Fanny Haydee B. Llego, "A Prayer, or Great Expectations," in which we learn that the perfect wife is
Someone on whom I can vent my frustrations
& who is supportive in trying situations;
Who'll extol all my virtues, forget all my faults
& would always submit to my sexual assaults;
[...]
My sexy cheerleader, housekeeper, accountant,
Secretary, nursemaid, unflagging assistant;
Brought up & moulded to think that success
Is found in the home: nothing more, nowhere else.
[...]
[Source: Songs of Ourselves: Writings by Filipino Women in English, ed. Edna Zapanta-Manlapaz, Anvil Publishing, 1994.]
I say "little," which it's really not, except for the fact that it sings like a ditty with its neat rhyming couplets, deceptively simple, with an unanticipated ending (which you'll have to read here). I want to give this poem to girls as a jump rope rhyme, slip it into all those places of gender socialization (Barbie Malibu Dreamhouse sets and all) to see what happens.
Barbara Jane Reyes was born in Manila, the Philippines, and grew up in the San Francisco Bay area. She earned a BA in ethnic studies from the University of California at Berkeley and an MFA from San Francisco State University. She is the author of the poetry collections Gravities of...