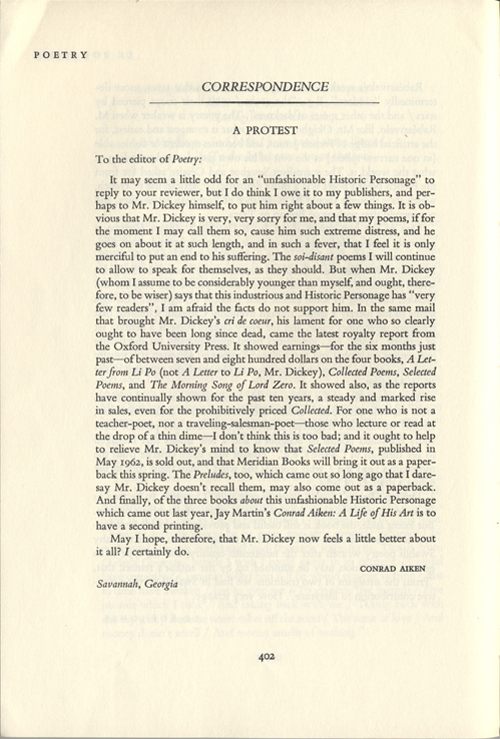 Looking through the Poetry archive this past month, we came across the above letter from Conrad Aiken in the March 1964 issue. Aiken's letter is a response to James L. Dickey's review of his book The Morning Song of Lord Zero in the December 1963 issue. Dickey cuts to the chase:
The course of poetry appears to have turned away from Conrad Aiken, leaving him an industrious and unfashionable Historic Personage with space in all the textbooks and anthologies and very few readers.
(Read the rest of the review to learn about "metaphor-or-bust syndrome," and other poetic put-downs.)
Aiken's humble reply begins:
It may seem a little odd for an "unfashionable Historic Personage" to reply to your reviewer, but I do think I owe it to my publishers, and perhaps to Mr. Dickey himself, to put him right about a few things. It is obvious that Mr. Dickey is very, very sorry for me, and that my poems, if for the moment I may call them so, cause him such extreme distress, and he goes on about it at such length, and in such a fever, that I feel it is only merciful to put an end to his suffering.
Aiken includes his latest royalties report, "between seven and eight hundred dollars," as an extra salve for Dickey's suffering.
(Looking for more literary jousting? Read the back-and-forth between William Empson and Geoffrey Grigson reprinted in our April issue.)
The March 1964 issue also includes Jerome Rothenberg's first appearance in Poetry, C.K. Williams's first published poem, and a review of African American poetry anthologies by LeRoi Jones (Amiri Baraka):
It cannot be, as Gregory Corso said recently of black writers, "They fail because they are stuck with talking about their people" ... If Whitman and W. C. Williams were not talking about "their people", what in Christ's name were they talking about? It is the how that is, and will remain, important.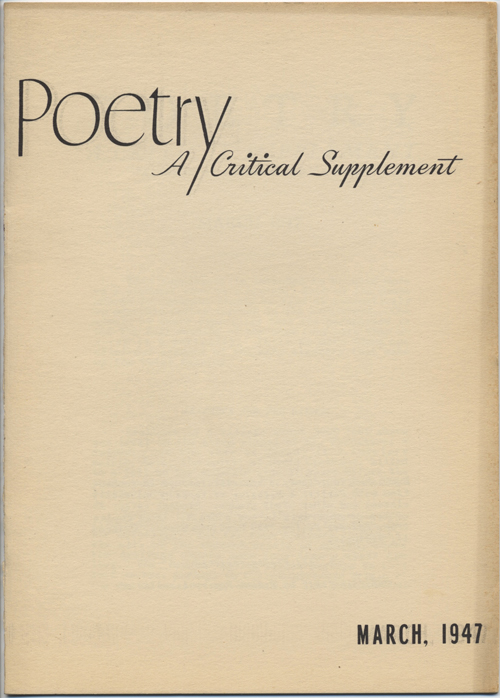 Also in the archive is this beautiful copy of Poetry's first "Critical Supplement." Created by John Frederick Nims to accompany the March 1947 issue, dedicated to post-war Romanticism in England, the supplement was meant for college classes and informal discussions alike,
to serve as a guide to modern poetry and an investigation (with reference to new and untested poems) of the general problems of poetry and criticism.
Included are your standard fare of annotations and "analyze the rhyme scheme" suggestions, as well as some peculiarly specific questions. For Henry Treece's "Elegy":
Line 11: Why does the "playground" of the birds become the "prairie" of the cats?
Read the rest of the March 1947 issue for Poetry's first poems by Vernon Watkins, Kathleen Raine, W.S. Graham, and others. Visit our discussion guides page to see contemporary versions of the "Critical Supplement" -- a new one goes up every month!