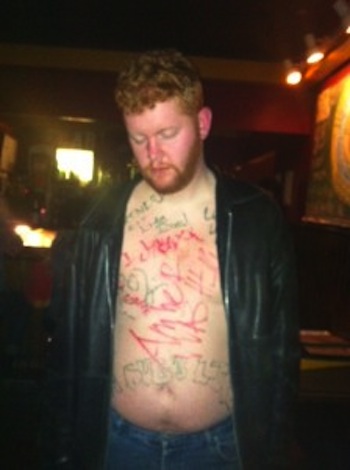 Like any great film, I thought I'd start the story of Iowa's recent Mission Creek Festival with it's end, then go back and start you off at the beginning.  So here it is.  Standing before you (above you?), tagged, tickled and pickled in Talisker.  How did we get here, you ask?  How did the Iowa Writer's Workshop and all it's glory get to this point?  LET'S GO BACK IN TIME... put on that Eddie Money song... get yourself some sunglasses... and take my hand...Baby hold onto me...
...It was Thursday evening, March 30th in Iowa City and fellow poet Beau Sia and I had to make a quick decision:  Go to a reading by Robert Hass at the Buchanan Auditorium or go see Leslie and the Lys at the Blue Moose.  (I wonder what people reading this right now on the Poetry Foundation website would have done with such a difficult decision?!  I WONDER....)  Alas, we tried to make both but were sucked up into the gold glory that is lycra spandex pants and sick rhymes on how to tell if your cat is a secret witch or not.  By the time Leslie and the Lys had exited the stage, so had Hass across town.  UGH.  All that was left for us was booze and the Iowan aphrodisiacs of Night Blooming Jasmine and cow pies.  Beau and I were accompanied by comedians Jon Glaser (Star of "Delocated" on Adult Swim), Jon Benjamin (voice of "Archer"on FX) and my betrothed, poet Brad Liening.
(What's that you're saying?  Brad is married to someone else?  To a beautiful unicorn in the human form?  And I'm engaged to David Cross?  Oh.  My bad.)
Beau, Jon, Jon, David and I headed to one of the local spots called Shorts.  It has an impressive Scotch and Whiskey collection, otherwise known as what the doctor calls my two 28 year old kidneys.  But this isn't about my Scottish heritage.  This is about poetry.  Which, in full circle, is often about Scotch and Whiskey.
We sat around a large table, comedians and poets (the ever ravishing writer Joe Tiefenthaler was also present) and shop talked until there was no shop untalked- everything from our paralyzing jealousy over Anne Carson's brave and powerful book Nox, to our favorite poetry book covers to come out in the last year (Mindy Nettifee's Rise of the Trust Fall being one of them), to the up and coming new slam poets and the last of the living Beats.  At one point Jon Benjamin joked to us about being a poet rather than a comedian: "I really missed my calling, didn't I?"
"No Jon.  Poetry is what you're good at.  Leave the comedy to us."
Friday morning bore a mild hangover into our skulls.  Nothing an aspirin and an omelet smothered in gravy and sausage couldn't fix.  After breakfast, I took David to the famous Prairie Lights Book Store to marvel at their hard-to-find collections and introduce him to the Hilary Clinton of the bookstore world, Jan Weismiller.  As usual, I had just missed her.  She was off solving world hunger or something.
That evening was David's comedy show with Jon Benjamin, Jon Glaser and Mary Lynn Rajskub.  As part of the show Derrick Brown and I joined them onstage for a live reading of a truly terrible script that David had discovered a few years earlier called Cocaine Is The Devil And God Pulled Me Through It.  Derrick read the narration while the rest of us read our "parts", roles that included character titles such as "White Girl" and "Black Dude."  David played "Cocaine"—an actual walking talking character/drug that the writer of the script had hoped Samuel L. Jackson would play someday when the film was made.  It was not made.  It will not get made.  Ever.
Holy Easter Bunnies of yore, I've written almost 700 words and haven't even gotten to the meat!  Here, put this tab on your tongue and let's take a shortcut….
Saturday morning/afternoon/night?!?/stilldrunk O'Clock/?!,  I kissed David goodbye as he headed back to New York and took the rest of the gang to my favorite part of the Mission Creek Festival—the Small Press Lit Fair at the Mill.  I bought and discovered so many new and incredible items:  Make Magazine, Moon Milk Review, Dan Boehl's fantastic collection of poetry King of the Fucking Sea and Sommer Browning's Either Way I'm Celebrating, a beautiful broadside of a Matt Hart poem, Zachary Schomburg's follow up to Man Suit, FJORDS VOL. 1,  Brad Liening's new collection of poems, Ghosts and Dopplegangers, a marvelous tiny booklet of fortunes by Dobby Gibson and a journal of poetry with a cork stabbed through all the pages so you can't read the damn thing unless you literally uncork it.  A corkscrew is provided upon purchase.  Fucking Forklift, Oeno.  Leave some for the rest of us.
(Sidestory:  A few days before heading to Iowa, I found a chapbook behind a bookshelf in my house whilst Spring cleaning.  It was a copy of Brad Liening's "Are You There God?  It's Me Whitney Houston."  I remembered buying it the year before at the Lit Fair (and eerily a year before Whitney Houston actually passed away.)  I opened it and was gobsmacked at this newfound cumshaw.  Poems to/for/by/about Whitney Houston and all things predator/prey relationship.  Poems about entering the emotional Space Time Continuum…of a dance floor.  It blew my mind's mind wide open. ONE OF US, I thought.  I knew Brad would be at this year's Lit Fair so I brought the chapbook with me from Los Angeles and asked him to sign it.  "I'm so glad you understand." he wrote inside.  If this was an episode of Battlestar Galactica, Brad and I would both be 6's.  OR, YOU ARE ALL 6'S AND BRAD AND I ARE EARTH.)
That night, Derrick Brown Beau Sia and I had our big show at the Mill.  I asked (begged?) Brad to open for us and he graciously did.  Upon Brad leaving the stage,  Spike the sound guy promptly pressed play on my ipod and BUMPED Dr. Dre's "Nothin But A G Thang" as Derrick, Beau and I slowly walked towards the stage, saluting the audience with our glasses of Maker's Mark and using the entire 3 minutes and 58 seconds of that song to convey how really real shit was about to get.  That this was going to be Nothing But A Poetry Show, Baaabayy.  Three Loc'd Out Poets Goin Craaazaay.  Self Employed Is The Label That Paaaays me.  Unfadable So Please Don't Try To Fade This.
To Be Continued…
Actress and poet Amber Tamblyn was born in Venice, California. She is the author of the poetry collections Free Stallion (2005), winner of the Borders Book Choice Award for Breakout Writing, and Bang Ditto (2015). She self-published the poetry, art, and photography collections Plenty of Ships and Of the Dawn, and...