Recently, a friend of ours gave my spouse and me this as a belated housewarming present: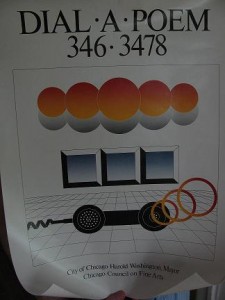 It's a vintage poster from the early 1980s promoting Chicago's now-defunct Dial-A-Poem program launched in 1981  by the Chicago Council on Fine Arts "as an effort to introduce Chicago Area writers to a wider audience and to show Chicagoans examples of literature produced locally."
According to an article in the still funct Hyde Park Herald advertising the call for submissions for the 1984-1985 open competition, judged by Haki Madhubuti, Robin Hemley, and Phyllis Janik, all of whom served in 1983, and Barry Silesky and Reggie Young, "Participants range from senior citizens to college students with a broad range of backgrounds and interests. They reflect a racial and ethnic mix with comparable numbers of men and women."
The guiding idea behind this program—which, as of 1985, cost $2,500 a year to operate and averaged 750 calls a week—seemed to be that anybody who was reading or writing poetry was going to have interest in the work of anybody else who was also reading or writing poetry, regardless of how different their specific practices and proclivities happened to be. That is not an assumption that gets made very much anymore, and its absence is hardly something that's unique to the poetry world—this general evacuation of the common. And even though, until our friend gave us the poster, I did not even know that Dial-A-Poem Chicago had ever existed, I miss it.
The program, predictably, was not without quote-unquote controversy, particularly when Alderman Edward Vrdolyak protested a poem  entitled "Bitches' Brew" by a University of Illinois senior named Howard Edwards that told "the story of a father who warns his son about the spell a woman can put on a man."
In the ensuing debate, Joseph Parisi, then editor of Poetry, was quoted by the Chicago Tribune as saying, "It seems to me that it is more interesting as a sociological document than as an artistic creation." He was speaking of the individual "controversial" poem, but one could say the same thing about the entire endeavor, I suppose. Still, I wish that Dial-A-Poem Chicago were in existence presently.
The idea that you could dial this number and then listen to whatever it played is very different than the idea of going to the Poetry Foundation website, finding the Yeats poem you're interested in, and hearing Yeats read it. There is a pleasing element of accident (that reminds me a bit of Camille Dungy's excellent post on "Why I Write to Strangers") and a generous expectation that you should just want to hear a poem—any poem.
The original number, (312) 346-3478 is still listed as connected to Dial-A-Poem, and the address for the Harold Washington Cultural Center, but when you call these days, it rings and rings and rings unanswered.
Kathleen Rooney is a founding editor of Rose Metal Press, a publisher of literary work in hybrid genres, and a founding member of Poems While You Wait, a team of poets and their typewriters who compose commissioned poetry on demand. She teaches English and creative writing at DePaul University and is...