Well, National Poetry Month is winding down, and I have been enjoying my time in this space, writing out my thoughts on teaching, reading, and writing Pinay Literature (and related topics). I'm always grateful to be called back here. This inclusion is meaningful to me and to members of my community.
I have previously written about the feeling of invisibility reinforced among Filipino Americans due to the absence of Filipino American authored books in mainstream, mega-bookstores. So even though these mega-bookstores appear to be a dying breed, at what other brick and mortar establishments are people accessing books, if they're not hip to the discussions our writing communities always have about the importance of the independent bookstore.
I always want to scream and yell at Filipino Americans who claim never to know of any Filipino American writers: Go to Arkipelago Books in SoMa! Go to Eastwind Books in Berkeley! But suburbs (and outlying suburbs) being geographically distant, and the suburbs being where lots of Fil Am's in the Bay Area live, casually coming to Berkeley and SF doesn't always happen. Hence, that disconnect from the local businesses who specialize in Asian American and Filipino American literature. Hence, that feeling of invisibility. Hence, the perpetuation of an ugly myth that Filipino Americans don't write books. Hence, the ugly correlatives, that Filipino Americans don't buy books and Filipino American don't read books.
My parents live in Fremont, a suburb about 40 miles away from San Francisco, and about 25 miles away from Oakland, where I live. Both the Borders and Barnes and Noble stores in Fremont have closed. I asked my mother recently where one buys books in Fremont, and after a moment of thinking, she said, "I really don't know. Target, maybe. Wow, what does that say about us here in Fremont?"
So that's one place of privilege I inhabit; we've had similar mega-bookstore closures in our area, which never leaves me or my husband who's also a poet (and one of this year's Andres Montoya Poetry Prize finalists—let a Pinay brag a bit) Oscar Bermeo wanting for books, books, and more books. Good ones. Used ones. Rare ones.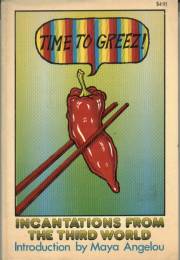 Just last week, after watching Cabin in the Woods at the Grand Lake Theater in Oakland, we decided to pop into the excellent Walden Pond Books, just up the street from the theater, also on Grand Avenue. This bookstore is so musty, it activates my asthma (the two beautiful Samoyeds who laze about the bookstore's entrance don't help much either). But getting lost in in Walden Pond Books is always awesome nevertheless. That night, I found a copy of a book I've only ever read about in bios for Janice Mirikitani and Jessica Hagedorn. I found a copy of Time to Greez!: Incantations from the Third World (Glide Publications/Third World Communications, 1975).
Of course, there are used copies available online, at Amazon etc. But I want to believe it means more, to happen upon it when aimlessly perusing the used poetry shelves in your local indie bookstore.
Time to Greez!: Incantations from the Third World is one of the early literary anthologies of works by diverse groups of writers of color. Not having had time to actually bury myself in the book, here are some preliminary thoughts.
The naming alone gives me much to think about. "Incantations" reforges the connections with our communities' storytelling and oral traditions. "Incantations" also indicates the sacred and the ritual, not separate from poetry. "Third World," indicates not just our countries of origin, their neocolonial status and socioeconomic conditions. This term very importantly speaks to the conditions in which many people of color live in this country. "Third World," then, is a political identity (just like Pinay, or Raza, or Xicana), one which also indicates the transgression of borders, the mobilization of multicultural communities based upon colonial legacies, and one which rejects the common misperception of folks of color in the USA as the "minority." Together, people of color in the USA are not minorities.
As for "greez," Urban Dictionary can't help me with this one.
The editors of this anthology are as follows: "Janice Mirikitani, Luis Syquia, Jr. (Asian), Buriel Clay II (Black), Janet Campbell Hale (American Indian), Alejandro Murguia, Roberto Vargas (La Raza), Jim Dong and Rupert Garcia (graphics)." There's that name again. Syquia. I also just recently wrote about Serafin Malay Syquia, revisiting and reprinting his essay, "Politics and Poetry." Editor and poet Luis Syquia is his brother, and the one who granted me permission to reprint. Serafin's work is also posthumously included in Time to Greez!
Perusing the table of contents, I am a little surprised to find that the different communities included within are broken into different sections. Each section is introduced by its respective editors, handling what is distinct about their work, given the particulars of their historical experiences. I get that despite difference, still, the transgression of borders is what is most important.
Some familiar names from the inclusive and varied table of contents include Jessica Tarahata Hagedorn, Victor Hernandez Cruz, Lawson Fusao Inada, Ntozake Shange, Ishmael Reed, Raul Salinas, Omar Salinas, Al Robles. And not so familiar names (to you)—Emily Cachapero, Sam Tagatac, Bayani Mariano, Orvy Jundis.
Anyway, with the end of the semester fast approaching, I will finally have some time to sit and read this book, any many others.
I'll leave you with this excerpt of Maya Angelou's introduction, which serves as the book's back cover "blurb":
"Now in this book, TIME TO GREEZ!, we hear the truth-Blacks, Browns, Reds, Yellows telling their story. The poetry sings and the total effect is harmony. There is hurt, humor and hope in these pages. The hurt of concentration camp, cockroaches, and drugs; of broken treaties and promises; of old men living dried old lives in the blazing sun of California farmlands. There is enchantment of the beauty in Blackness and the searing awareness that Beauty is not enough. There is the wry chuckle of cooking chitlins in a newly integrated white suburbia, the simple appreciation of Pablo Neruda's human-ness, and the American Indian selection that comes like a faintly heard chant late at night. These colors have come together in a rainbow. This, too, is America—where she has come from—and a close and honest look will inform the reader where she is going, and, probably saddest of all, why."
Barbara Jane Reyes was born in Manila, the Philippines, and grew up in the San Francisco Bay area. She earned a BA in ethnic studies from the University of California at Berkeley and an MFA from San Francisco State University. She is the author of the poetry collections Gravities of...