According to the Fall 2010 demographics at the University of Hawai'i, Mānoa (UHM), nearly 3,500 students identify as native, with 3,328 Pacific Islanders and 89 American Indians/Alaska Natives.
When I was hired last semester as an assistant professor in the English department at UHM to teach Pacific literature and creative writing, I knew I wanted to create and foster a space for native voices, since there are so few spaces for us in this world. Fortunately, I was able to team up with Hawaiian poet Brandy Nālani McDougall (who was also hired last semester to teach indigenous studies in the American Studies department) and we created the Native Voices Reading and Lecture Series.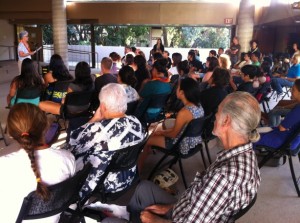 At this point, we have held seven Native Voices events, featuring established and emerging Pacific writers, scholars, and activists who trace their genealogies to Hawai'i, Samoa, Fiji, Tahiti, Tonga, Palau, the Philippines, Guahan and Saipan. We've also featured roundtable discussion on the topics of Demilitarizing the Pacific, Pacific Youth Empowerment, and Teaching Pacific Literature. We have been so thankful to have received support from the English Department, American Studies, Center for Pacific Islands Studies, Kamakakuokalani Center for Hawaiian Studies, and the Pacific Writers' Connection.
Our next event (a literary reading) is this Saturday at the beautiful Hālau o Haumea of The Kamakakūokalani Center for Hawaiian Studies. I am excited about it for a number of reasons. First, the reading is part of the UHM Indigenous Studies Student Conference (the theme of the conference is Ola Nā Iwi (The Bones Live): Indigenous Continuity), organized by Prof. McDougall, which features over 20 graduate and undergraduate students presenting on various topics from Hawaiian herbal medicine to Maori literature to Micronesian women in the military to the Native American Graves and Repatriation Act (you can read the full program here).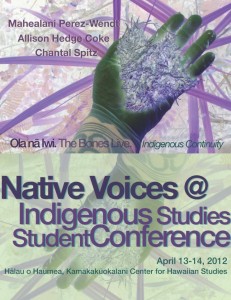 The Native Voices poetry reading will feature a very important Native American writer, editor, scholar, educator, activist, visionary: Allison Adelle Hedge Coke. Allison has been at the forefront of articulating a global indigenous literature, and we feel so honored that she is coming a long way to share her work and engage with our students. Read Allison's impressive bio here.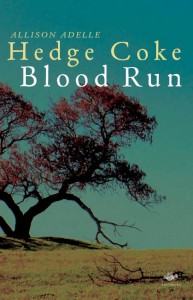 To welcome Allison, three local poets will read with and open for her. The first is an undergraduate Hawaiian poet who is enrolled in my Intro to Creative Writing course. His name is Kaleionaona Lyman, he is a graduate from the an Hawaiian language immersion school, and he is currently a double major at UHM in Hawaiian language and English. He writes in both languages, and his work is deeply connected to his ʻĀina, ohana, and native identity as Kānaka ʻŌiwi. I have no doubt he will be a bright star in Pacific literature.
The second poet is Shea-Lah Kama, born and raised in Hawaii and currently resides in Waianae. Shea-Lah is a 21-year old advocate for agricultural and Hawaiian rights. She graduated with her Associates in Arts Degree in Liberal Arts and a certificate in Hawaiian Studies and Community Food Security. Shea is currently working at MA'O Organic Farms as a Ho'owaiwai Youth Leadership Training intern. She also presented on the roundtable discussion of Pacific Youth Empowerment.
The third poet, U'ilani Arasato, is also a young organic farmer at MA'O who is working towards her Associate of Arts with a Certificate in Community Food Security at Leeward Community College. She is an activist for her community of Waianae and has testified at public hearings on issues that threaten the health of agricultural lands in Hawai'i. She performed a beautiful poem about being a farmer at the Pacific Youth Empowerment roundtable, and I can't wait to hear her read more of her work.

I am a member of MA'O Farms Community Supported Agriculture (CSA) program, and I love knowing that the farmers who grow the food that feeds me are also poets. I also love that MA'O has a pick-up station on the UHM campus! Learn more about MA'O Organic Farms here.
This, my friends, is what indigenous literature looks like. I hope to see some of you on Saturday! The reading will be from 3:45-4:45, with book signing from 4:45-5:30, at the Hālau o Haumea of The Kamakakūokalani Center for Hawaiian Studies.
(I've done a longer write-up on many of our previous Native Voices events here).
p.s. if you'd like to learn more about Pacific literature, friend me on Facebook and subscribe to my feed because I often post on the topic
Craig Santos Perez is a native Chamoru (Chamorro) from the Pacific Island of Guåhan/Guam. He is the co-founder of Ala Press, co-star of the poetry album Undercurrent (Hawai'i Dub Machine, 2011), and author of three collections of poetry: from unincorporated territory [hacha] (Tinfish Press, 2008), from unincorporated territory [saina](Omnidawn, 2010),...