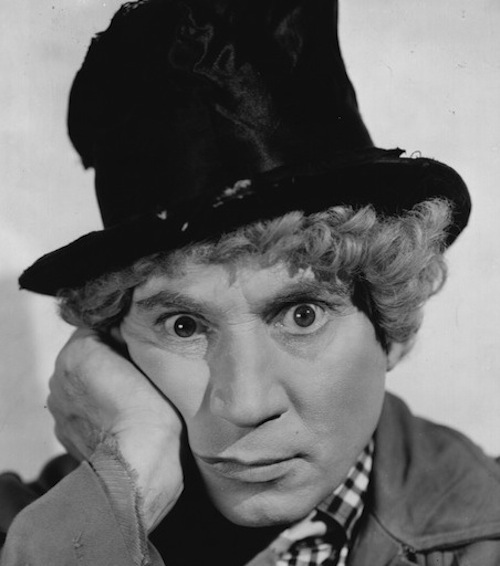 The Volta News points us to an interview with Wayne Koestenbaum at Lambda Literary. The poet and cultural critic has recently published a new book of poems, Blue Stranger with Mosaic Background (Turtle Point Press), and a critical examination of Harpo Marx, The Anatomy of Harpo Marx (University of California Press). He talked with William Johnson "about the process of writing about humiliation, Harpo Marx, and how poetry informs his cultural criticism." An excerpt:
In The Anatomy of Harpo you comment on how you are drawn to the physicality of the comedic actor Harpo Marx. Were you surprised by how much more Harpo spoke to you than, say, the more cerebral (and often more celebrated) Groucho?

Not surprised. Groucho slightly disgusts me—maybe because he reminds me of me, the talky me, the me who compensates for melancholy with bony speech. Harpo, however, brings me back (or hurtles me forward) to nonverbal pleasures: the joy of elbow, thigh, nose, foot, stomach, forehead, curls.

After deconstructing so many of Harpo's films did you come away with a favorite—a movie you feel everyone should watch?

I'd start with Horse Feathers, if only for the pleasure of seeing Harpo play football, score a touchdown, bite a quarterback's finger. (He decides that the hunky quarterback's finger is a hot dog.)

Are there any current actors whose engaging physicality you find yourself responding to?

Sacha Baron Cohen. He likes to take off his clothes in public. I suppose he reminds me of Groucho Marx—but a sexier Groucho, with a better body. A tall Groucho. A British Groucho. A Groucho with some of the pizazz of Mark Spitz.

You have been very prolific of late; you also have a new poetry collection out. Do find your cultural criticism informing the poetry you produce?

I'd say the opposite: my poetry informs my cultural criticism. My attention, in poems, to syllables, to minute juxtapositions, to eccentric arrangements, to autobiography's inappropriate eruption in analytic contexts (or culture's' inappropriate eruption in confession's context), filters into my criticism, which also promiscuously inserts autobiography where it doesn't belong, enjoys odd juxtapositions, and boils ideas down into bite-sized phrases, like Tupperware for treasured leftovers.