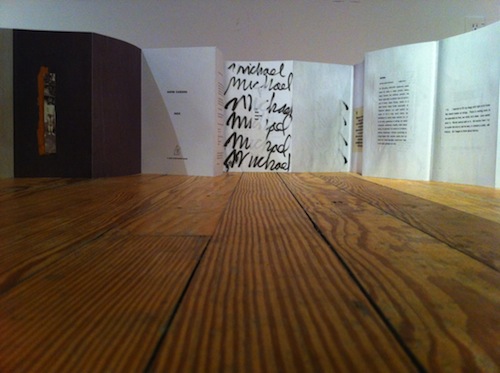 For those who have read Nox and wondered what the boxed, accordion-folding book would look like as a dance performance, turn to The New York Times review of "Nox" at Danspace Project at St. Mark's Church:
If you wanted to translate the book into a performative medium, it makes some sense to bring in the eloquently mute.

And if you're going to bring in dancers, why not choose extraordinary ones? The dancer Ms. Carson asked was Rashaun Mitchell, and the "Nox" that opened at Danspace Project in St. Mark's Church on Thursday, is a duet for that extraordinary Merce Cunningham alumnus and one other, Silas Riener. (The choreography is credited to Mr. Mitchell in collaboration with Mr. Riener.)

At the outset, Mr. Mitchell calmly walks the perimeter of the nave. He sits on the floor and joins the audience in looking up at the balcony and the stained glass windows. Light floods in from several doorways. He waits, and then Mr. Riener races across the upper level, an apparition.

When Mr. Riener reappears below, he is traveling with alarming speed. He is what Ms. Carson calls "a windswept spirit." Running smack into a corner, he tumbles backward, until his limbs snag on a pillar. Out of one unstable balance after another, he falls. Ms. Carson's recorded voice recites Catullus in Latin.

Mr. Mitchell's response is to drag Mr. Riener across the floor, to hurl him against a wall. For a moment it seems as if Mr. Riener wants to push through the wall, or pull it down. He has an epileptic fit, and Mr. Mitchell watches. Near the threshold of the front entrance Mr. Riener moves through positions voluptuous and strange. Like a gust of wind he exits, and the lights go out. "Nox" is "night" in Latin.
That's just a taste. Make the jump to find out what Carson and artist Robert Currie are doing with overhead projectors. And if you can't make it to NY for the performance, just watch here: