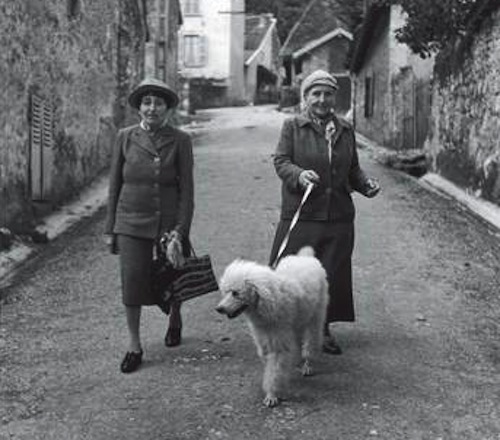 We recently pointed to a piece by scholar Barbara Will on Gertrude Stein's potentially iffy wartime politics; and The New Yorker posited the other day, oddly, that "The Anti-Defamation League is right to say that Stein's 'troubling ideology was inextricably linked to her art collection.'"
Now, at Jacket2, Charles Bernstein hopes to set the record straight, giving us a few direct links to essays that deal more fully with the complexities of Stein's connection to Barnard Faÿ and the Vichy government, also attaching a comprehensive list of those (including Will's) that denounce her. Quoting Edward Burns:
"...How can one read this writer, they seem to be saying, when she has such odious pro-Vichy, pro-fascist views. Each retelling of the story enlarges what Stein actually did, and rarely cites specific information, sources, or puts the translation project in an historical context. By focusing exclusively on this aspect of Stein's life, her detractors avoid confronting Stein's published writings during the war. If they did, they would find that her publishers were exceptional individuals who struggled to maintain the intellectual tradition of freedom of thought and expression." Burns's essay responds comprehensively to the mischaracterizations of Stein's activities during the war years. It is a crucial work of scholarship, must reading for anyone interested in this topic.
Bernstein also points us to Joan Retallack on the subject:
As Joan Retallack writes for this dossier, Stein "was no fascist. That her clearly ironic statement about Hitler and the Nobel Peace Prize has been excised from its considerable context — which can leave no doubt of its irony, judicious or not — is a testament to the motives and intentions of certain readers, not to her own." Indeed, as I note in my commentary, this willful, multiply repeated, misrepresentation of Stein's remark in a 1934 New York Times interview is a little like saying that Mel Brooks includes a tribute to Hitler in The Producers.

When push comes to shove, as it has, I read Stein's war years as a survivor's tale. Jewish, female, homosexual, elderly (Stein was 66 in 1940), living in occupied France, Stein and Alice Toklas successfully escaped extermination. That is something for which we can be grateful. And I'm also glad that, by hook or by crook, Stein's art collection was not looted by the Nazis. In the end, Stein was able to go on to write her great feminist opera, The Mother of Us All, a celebration of American democracy.
A dossier of essays on the subject follows, and sources Burns, Retallack, Ulla Dydo, Marjorie Perloff, Douglas Messerli, and Renate Stendahl. See it all here.