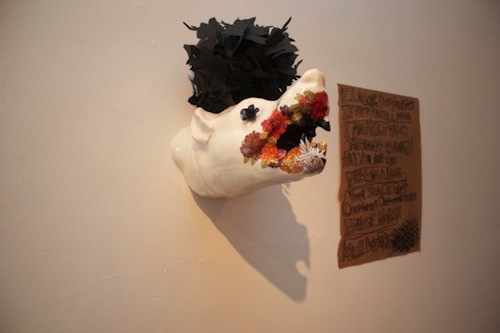 The Incliner points us to a cool (or hotter than the depths, actually) exhibition in Cincinnati right now. Hail Satan! is the last-ever show for CS13 Gallery:
[A]rtist Ken Henson and poet Matt Hart paired up 13 (unlucky!) visual artists and poets to re-interpret visually, and channel poetically, 13 members of the devilish horde. Each artist-poet pair was assigned a particular demon to conjure, and the results were exhibited during the month of August 2011 at CS13. In addition, the opening featured a reading by some of the participants and a limited edition book of some of the poems and images from the show itself.
There's a great slideshow on their site of the gallery and works. Also take in the full poems: participants include Dean Young, Nate Pritts, Alexis Orgera, Amy Lawless, Matt Hart, Kiki Petrosino, Adam Fell, Russell Dillon, Brett Price, Avril Thurman, Darcie Dennigan, Dorothea Lasky, and Bob Hicok, in addition to their demonic visual arts partners.