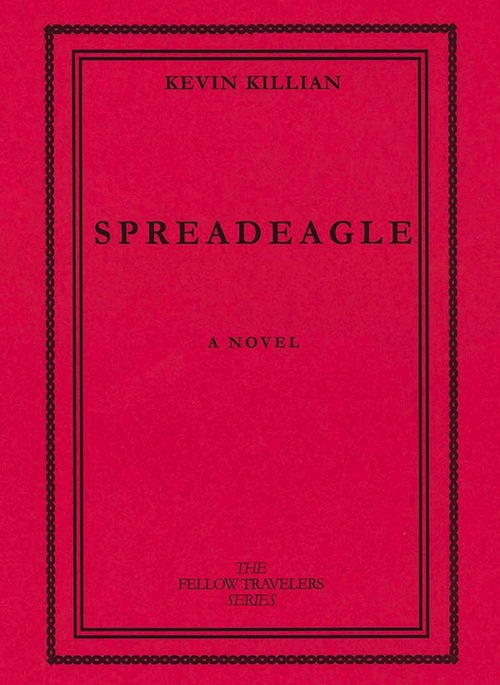 Rad: Dennis Cooper put a spotlight on "New Narrative pioneer" Kevin Killian's new (but two decades in the making) novel, Spreadeagle (Publication Studio 2012) on his blog. About the book:
Skating nimbly over the vast surface of pop history through a forest of movie stars, pop sensation, and dazzling social technologies, Killian undoes the ties that bind a half-dozen Californian men -- Daniel Isham, the powerful, popular gay novelist; Kit Kramer, his insecure activist boyfriend; Daniel's father, Ralph Isham, the world-renowned poet who haunts him in death; Eric Avery, the Duchamp-loving twink who wins Kit's heart; and the shadowy Radley brothers, Adam and Gary, who destroy them all. This is the great gay novel that America has been waiting for.
Cooper quotes Killian talking about the process:
'Basically the problem was I didn't know how it was going to end – or even what the middle part was going to be. Instead of grafting on some artificial developments, I said, "I'll just wait till it emerges in my dreams," the way that my poetry does and my stories do. And that did take a lot longer than I thought. I kept going back to Spreadeagle and it really became two novels in one, one ends and the second part begins. But finally, by the time the year 2000 appeared, I didn't want it to be a novel set in 1990. I wanted it to be contemporary. So a lot of the plot elements had to change – it's like every year that it took me longer to write, I lost a couple chapters at the beginning! I'd just chop them off and start somewhere down the pipe.

'It became a novel about a glittering kind of A-gay social world in San Francisco, where I live, a social comedy. And part two was going to be the horror of existence. It takes place in a tiny little town in the central valley—a real one horse town where methamphetamine is the main industry, you know, supplanted by fetish pornography. Those were my subjects, so it was grim. Grim grim grim…. Everything about it was grim. A lot of deaths and a lot of crime and a lot of action. So, finally, I wrapped it up two years ago and found a very supportive editor, Don Weiss, and under his tutelage I finished the book, so I remain grateful to him. Now it's going to be published by another publishing house called Publication Studio in Portland, Oregon.

'I think at some point (while writing it) I became aware of myself less as a writer and more as an artist. That doesn't make any sense to say that, but I think maybe you know what I'm talking about. At some point I realized there wasn't any point in me trying to be the new Henry James, Marcel Proust or William Faulkner. Living in California, I think, helped this. California is like the home of failure, I suppose. Not only failure, but contingency, accidents and things falling apart, so that the best writing and art from here has always been… well… kind of half-assed – in the best sense!