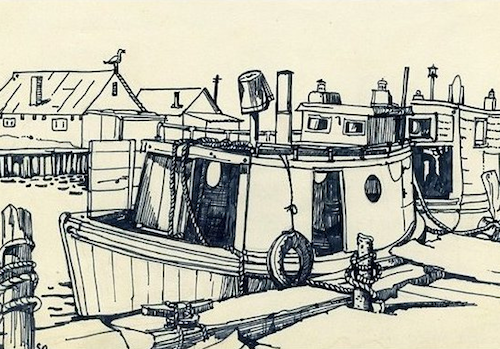 A write-up in the Ashland Current touches upon the highlight of Ted Hughes and Sylvia Plath's "Jack Kerouac-inspired cross-country road trip" that brought them to Cornucopia, Wisconsin.
From the article:
The highlight of their trip: Cornucopia, an unincorporated fishing village on the shore of Lake Superior, said David Trinidad, distinguished scholar at Columbia College in On the Road with Sylvia and Ted: Plath and Hughes's 1959 Trip Across America, in Plath Profiles, an online publication at Indiana University Northwest.

They camped in the hayfield of charter boat fisherman Andy Nozal, where Plath wrote she could "see Lake Superior through birch and apple tree branches; the water is blue and glittery and stretches to the horizon like a boundless sea," said Trinidad, who reconstructed the coast-to-coast and back again two-month trip using postcards, journals and letters.

Plath spent the next morning, sketching a fishing tug at the Cornucopia dock, a dock that looks the same today with possibly the same fishing tug resting on the beach next to the dock along with other retired boats.

It was the only sketch Plath produced during her and Hughes' 6,000-mile road trip, Trinidad said. Now the previously unseen pen-and-ink drawing of Harbour Cornucopia, Wisconsin, will be on display at London's Mayor Gallery Nov. 2 through Dec. 16, along with 43 other drawings, in an exhibit titled "Sylvia Plath: Her Drawings and Dadamaino: Volumes."

"She was very good," said Trinidad. "She could have been an artist or a writer — she chose writer."

Plath's drawing of the boat at the Cornucopia dock can also be seen in the biographical note at the back of her semi-autobiographical work, "The Bell Jar."
To read the rest, and to follow a link to the above mentioned drawing, go here.