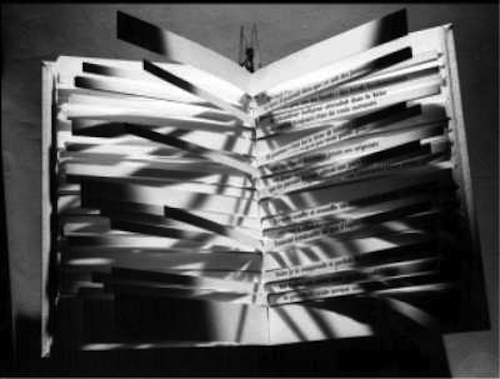 Do you ever wonder what's to become of the analog book? You remember, the ones made out of paper? This question is on Michael Agresta's mind over at Slate. He takes us through a tour of innovative book design that suggests what the future might hold for Ye Olde Book:
In the past several years, we've all heard readers mourn the passing of the printed word. The elegy is familiar: I crave the smell of a well-worn book, the weight of it in my hands; all of my favorite books I discovered through loans from a friend, that minor but still-significant ritual of trust; I need to see it on my shelf after I've read it (and I don't mind if others see it too); and what is a classic if not a book where I'm forced to rediscover my own embarrassing college-age marginalia?

Luddites can take comfort in the persistence of vinyl records, postcards, and photographic film. The paper book will likewise survive, but its place in the culture will change significantly. As it loses its traditional value as an efficient vessel for text, the paper book's other qualities—from its role in literary history to its inimitable design possibilities to its potential for physical beauty—will take on more importance. The future is yet to be written, but a few possibilities for the fate of the paper book are already on display on bookshelves near you.
Make the jump to check out some new books with innovative designs and some oldies-but-goodies as well.