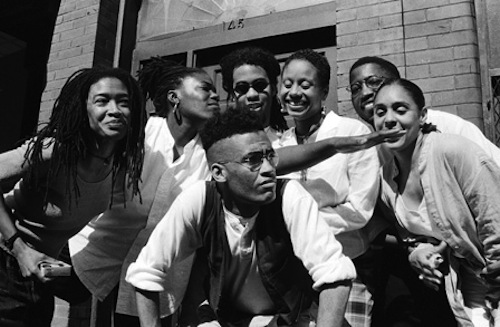 The Washingtonian covers the most anticipated poetry reunion of the year, that of The Dark Room Collective. Abdul Ali reports that the group collectively rocked the house at a recent reading at the Folger Library:
The evening felt more like a church service or a rock concert than a poetry reading. Pews were filled to capacity as each poet made his or her way to the microphone, reciting words in syncopated breaths with dramatic pauses between lines.

Present was Washington's own Thomas Sayers Ellis, a poet and photographer who cofounded the Dark Room Collective with poet Sharan Strange at Harvard University in 1987. Over time the collective, based in a rent-controlled Victorian near Harvard Square, grew to include scores of literary and visual artists. Also in attendance Monday were members Tisa Bryant, Major Jackson, John Keene, Tracy K. Smith, Natasha Trethewey, and Kevin Young. The reading marked the collective's 25th anniversary and paid tribute to its influence and popularity among scholars and academics over the decades.
Ali goes on to describe the loose and spontaneous structure of the reading that gave a sense of how close these poets are to each other:
More impressive than their résumés was the camaraderie on stage. Invoking a tradition started at their Harvard home, members randomly selected one another's names out of a hat, giving the reading a spontaneity rarely found at poetry readings. Natasha Trethewey told the audience she didn't feel nostalgic at all, as the word implied a longing for a past that never was. Instead, she said being at the Folger with the collective felt exactly as it had many years before.
Read the rest after the jump.