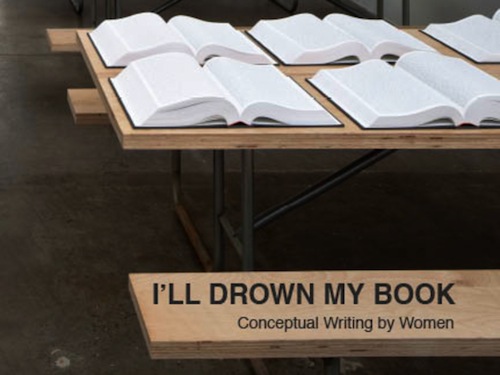 HTMLGIANT is doing a weeklong feature on the Les Figues anthology of conceptual writing by women, I'll Drown My Book. Janice Lee did Part 1 yesterday, and Molly Brodak has today's Part 2. An excerpt:
Some of the pieces I liked best were Rachel Blau DuPlessis's excerpt from Drafts, which she describes as "torqued" versions of "certain key male-authored texts of long modernism"; the selections from Bhanu Kapil's Schizophrene; Ryoko Seikiguchi's sensory poems which are presented without an accompanying statement; a section from Renee Angle's WoO comprised of "spliced" voices of Mormonism, from religious founder Joseph Smith to mailbomber Mark Hoffmann; Katie Degentesh's poems complied from children's writings about sex culled from internet searches; and Jen Bervin's gorgeous pattern samples created with letters and symbols on a typewriter, inspired by Anni Albers' typed designs and mixed with quotes from others associated with the Black Mountain College. For better or worse, this anthology has enfolded most movements in experimental writing (flarf, concrete poetry, L=A=N=G=U=A=G=E, post lyric, post language, a tonalist, etc.) in building its case for Conceptual writing, which mirrors the state of contemporary feminism, diffused as it is now with Freud's key influence on the wane in literature, its kaleidoscopic multiplicity and channeled interests a portent of change.

I found it disappointing that the reproductions of images (erasures, concrete poetry, drawings, photographs, embroidery, etc) were often of poor quality, or too small, as with Kristin Prevallet's photographs of her "Blue Marble Project," which are presented in a tragically tiny cluster, too small to for their proportionate detail. And the organization of the texts into four chapters provided thoughtful resting points in what is a pretty long book, but the names of these chapters (Process, Structure, Matter, and Event) seemed puzzlingly arbitrary or vague, as most of these works, it seemed to me, could appear under any one of these headings.

When Vanessa Place collapses the subject and the object of art/viewing into a "sobject" it is like Richard Wollheim's paradox of "two-foldness" in a painting: it is both surface and content, impossibly plainly there, to look at and to look in. It can be a decorated concept. Or it can spoil itself, thank goodness. It can look at its own illusion; it can worm into old important ones. In writing, language is already a found thing, a massive appropriation set whole upon a mind, and when interest in its loveliness or intricate networks painfully exceeds the critical force of an art-gesture the concept is a hostage: how beauty can stunt us. For all the self-certifying supports surrounding the writings in I'll Drown My Book, what caught me was the protrusion of the texts, their halfness, extending, as Chus Pato's Hordes of Writing starts, "From the other side, where we're alone with time".
Make sure to check back with HTMLGIANT for the rest of the feature. Part 5 will be a Q&A with the book's editors, prob a must-read.