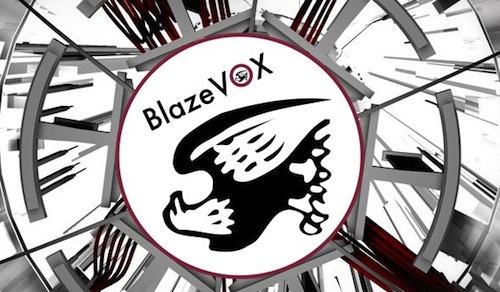 Geoffery Gatza took part in this interview with Nin Andrews over at the Best American Poetry blog.
Here he talks about how one can become a BlazeVox author and the press's international authorship:
NA: How does one become a BlazeVOX author?

GG: It's a very simple process; one sends his or her work to us by email. If the work fits in with the audience we have cultivated then we look to see how viable that work would best project. We have many outlets of publication, an online journal, ebooks, kindle books and printed books. So there are many ways in which we can promote poets and writers. We do have one guiding philosophy; the work must not suck. We are open to established writers as well as emerging voices and for one to feel that one's work is of quality is an important step in being a writer and we want to support that. But we also get work that just does not fit into our scope of publishing and in many cases I forward those writers on to presses that concentrate on their specialty. As of right now we have over nine hundred good quality manuscripts on hand and we continue to receive more. It is very exciting that there is so much great writing going on right now.

NA: You publish authors from around the world. Can you talk about the International aspect of press?

GG: We have published poetry and fiction books from many countries including Japan, Scotland, Ireland, England, Greece, France and Canada. We now have distribution to many of these countries through their local Amazon.com; which will help increase our exposure to these countries. So the press, through the wonders of the internet, has made leaps and bounds across the English speaking world. It is exciting to reach such a vast audience of readers and writers and I am looking forward to what can happen in the future. It has been a wonderful experience to work with writers from so many countries and I have learned a great deal. But one aspect is the same, writers have the similar concerns regardless of country; they all want a well designed book that reflects who they are as a writer and that their writing conveys in print what they envisioned in their mind.
More after the jump.