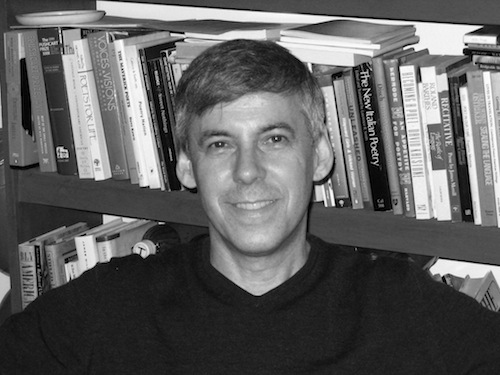 We learned yesterday that David Trinidad won a Lambda Literary Award for his work editing Tim Dlugos's A Fast Life: The Collected Poems of Tim Dlugos. Now, over at Coldfront Gina Myers provides a glowing review of Trinidad's Dear Prudence: New & Selected Poems.
Dear Prudence: New & Selected Poems is a formidable collection that makes a strong case for David Trinidad to have a part in the conversation of current major American poets. Weighing in at nearly 500 pages of poems–including 122 pages of new material–the book serves as a primer to anyone who has not previously read his work and as a treasure to those who have long been fans.

The book opens with the newer poems and contains selections organized chronologically from 1975-2007. It becomes clear that Trinidad established his voice early, and he has continued to write about his obsessions, from pop culture–music, movies, Barbie, the color pink, and Patty Duke–to his poetic heroes–Sylvia Plath, Anne Sexton, and James Schuyler–to his family, friends, and love life throughout his poetic career thus far. The poems run the gauntlet from dark to light, from serious to humorous, from concise to expansive, but overall Trinidad's singular voice comes through. New York School via Los Angeles, he successfully represents two strains of the New York School: James Schuyler's dailiness (see, for example, "November") and Ted Berrigan's playfulness ("The Ten Best Episodes of The Patty Duke Show"), while at times his musical repetition recalls contemporary David Shapiro, and his autobiographical poems recall his confessionalist heroes, Plath and Sexton.
More more to savor, including the time Trinidad "missed meeting the best living American poet." Make the jump to read all of it.