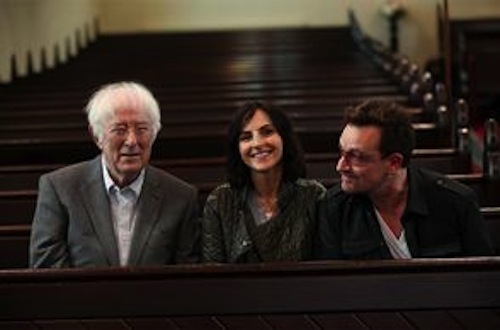 What happens when Ireland's top-grossing bandleader rubs shoulders with Ireland's top poet? A photo op, for starters. A few days ago, Mr. Bono popped in to hear Seamus Heaney read at a poetry festival in his hometown of Dalkey. Here's the scoop from the Irish Independent:
Nobel laureate Seamus Heaney was reading at the Dalkey Book Festival, now in its third year, when U2 singer and local resident Bono decided to drop by and listen.

"Seamus was reading a selection of his poetry at St Patrick's Church on Harbour Road," festival director Sian Smyth said last night.

"We had the biggest rock star of literature in the room, and Bono turned up. We were delighted to have him.

"We were talking about Dalkey and about what a buzz there was about the town over the weekend. We had an incredible line up of people. We had Robert Fisk in the main church, Barry Devlin playing in the main hall and a discovery session for new writers."
We're just wondering who was more starstruck. Entire article here.