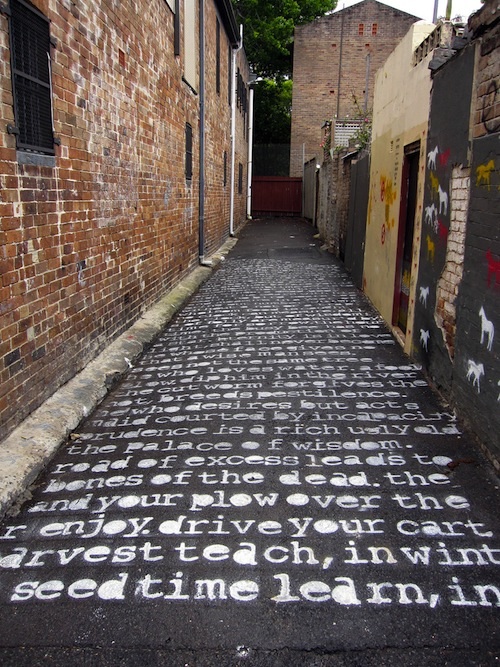 Now that the UK's Education Secretary has made poetry memorization compulsory in grammar schools, England is rethinking its relationship with verse. This Monday, The Guardian hosted a live chat with poets and poetry advocates about how to transform their communities into "poetry towns," through festivals, outreach projects, and more. Here's the roundup:
Put poetry 'on' the town – not just in it: For me the focus must be on poetry in public and private spaces – upon walls, in streets, on sculptures, windows and all available spaces. - Lemn Sissay, Poet

In St Andrews, where the StAnza Poetry Festival happens each March, the town is full of little poetry events – tiny books are found between the shelves at Oxfam or under menus in the ice-cream bar. A lady in the Wirral Justine Tennant Teeling does a similar thing, releasing little books the size of matchboxes into unexpected places. - Jo Bell, director, National Poetry Day

Schoolchildren here are involved in poetry writing and we're planning to take some young poets to local residential homes for the elderly where they will recite their work and encourage audiences to write their own on the spot. - Cathey Morgan, education and outreach officer, Theatr Brycheiniog

The town feels it 'owns' the [Ledbury Poetry Festival,] from the organic food producer who makes a poetry festival ice-cream to the cider company that makes Poetry Gold. - Victoria Patch, Festival Manager, Ledbury Poetry Festival

Our experience is that there is no need to dumb down the content in order to reach new people, only a need to present the content in a way that is likely to show how it is relevant to them and their lives. - Graham Henderson, CEO, Poet in the City
Inspired? More good advice here.