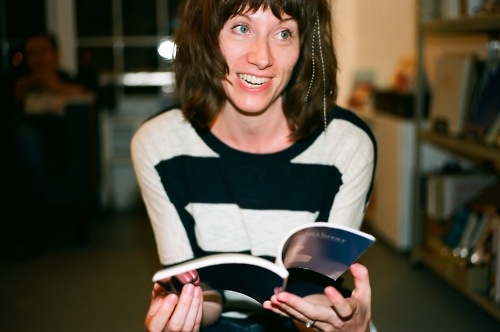 It's been a busy week for Heather Christle. But she still had time to take part in an interview with Virginia Konchan for Michigan Quarterly Review, in which she talks about the aphoristic possibilities of her work via the idea of readers tattooing lines of her poetry on their bodies:
John Darnielle said of The Trees The Trees: "If you're thinking about a new tattoo, may I recommend dropping your finger onto any random phrase in Heather Christle's new book?" This is clearly wonderful praise—any passage from any poem in that book is worth of being made flesh—but I wonder—do you perceive your own work aphoristically or able to be parsed discretely like that? While we're at it, are there any other monikers you've been assigned in the last few years that particularly resonate with you—or not?

I can't imagine having words tattooed on me. I think I wouldn't be able to sleep. Language is so loud. I know that there are units within my poems—lines or phrases—that sometimes pop into my consciousness to be reapplied in a new context. The same thing happens with lines from other people, of course. So it does seem possible to lift bits out, though the act necessarily shifts their meanings. At the same time I'm not a big collager in making my own poems; the words were composed essentially in the order they appear, and so for me they have a strong feeling of sequence and completeness. One bit must follow another bit until a bit is an end.

Monikers I've been assigned: New Sincerity/New2 Sincerity, Neo-Surrealist, Eighth-Wave UMass Neo-Surrealist. None of these resonate with me in particular. I did get my MFA from UMass, and I do believe that I would not write as I do had it not been for Surrealism, but that's as far as it goes. I'd very much like to get beyond the question of sincerity. I do believe that there is much afoot here in Northampton, and I do feel an affinity with it, but I don't think it can be limited to UMass, Surrealism, or sincerity. I'd prefer to keep it geographical. And too, whatever I am a part of, it is still growing. I'd rather name it once it's reached maturity—or death.
Read the entire interview here.