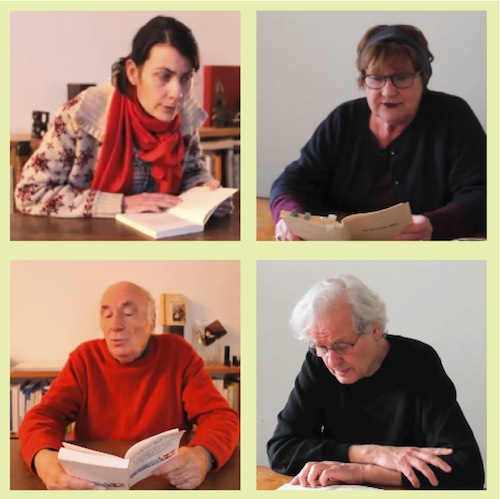 Skip over to PennSound today to check out videos of four French poets recently added to their archive.
Today, we're highlighting four new author pages for contemporary French poets, each anchored by an intimate video reading filmed this year in Paris by "composer and occasional author, encyclopedist, movie maker, stage director and performer," François Sarhan.

First up, we have Marie-Louise Chapelle sharing selections from Pronouncé second (Flammarion, 2010). Next is Anne Portugal, reading from la formule flirt (P.O.L., 2010). She's followed by Jacques Roubaud, who reads excerpts from his recent collection, La forme d'une ville change plus vite, hélas, que le coeur des humains: Cent cinquante poèmes, 1991-1998 (Éditions Gallimard). Finally, Claude Royet-Journoud brings things to a close with "A la ressemblance des bêtes" from Théorie des prépositions (P.O.L.), "Kardia" and "Asservissement de l'air à son vacarme."

Charles Bernstein, who was responsible for bringing these recordings to the site, recently announced these films on Jacket2, and what's particularly wonderful here is that it marks the PennSound début for three of the four poets (Chapelle, Roubaud and Portugal). You can watch these videos on the individual authors' pages by clicking their names above.