Who: Andrew Zawacki
What: Paris graffiti
When: June, 2012
Where: Paris, France
"Open Door" features audio, video, and online media to document dynamic interactions between poetry and its audience. "Open Door" showcases performance, scholarship, and engagement outside the usual boundaries of slams, workshops, and book publications. This week: Photograffiti in Paris.
***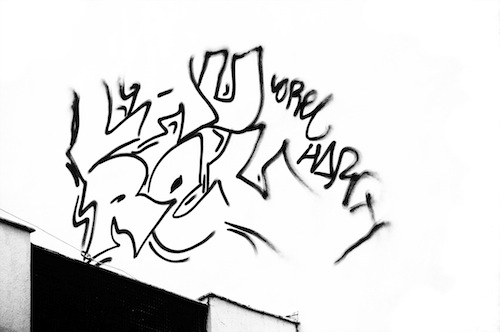 If you fixate on what's in front of you, you miss the vertiginous blitz. Crick your neck, lean away, toggle wide-angle to zoom: some graffiti is installed so high up, on water towers and turrets and cranes, that its raison d'être often seems to be the ontological statement: "I was here." Simply to prove, to a glass and metal Everest in the Esplanade de la Défense, or some Pyrenean condominium summit near Pyrénées, that it could be done. As if hitched to the roof by steel wire rope—or written on the sky itself, by the Wicked Witch of the West, then rinsed to illegibility by the wind. But how the hell did someone get up there? The inaccessibility of graffiti's meaning, to the ignorant heurist below, is matched only by the apparent impossibility of anyone having accessed—let alone after midnight—where it got tagged. Is there a more precarious, noirish venue for any painter, at 4 a.m. in a Paris winter, than the barely visible underbelly of a slick and slimy limestone bridge that drops a hundred meters into the Seine? How did he not get caught, or killed, and what material was involved—hijacked bucket truck on a bateau mouche? Inspector Gadget helicopter hat? A veritable game of Clue might ensue (Cleudo in French): "I accuse OFS of committing graffiti on the Pont Neuf with a sawed-off extendible tree saw." Or: "BoyOBoy, balcony buttress, remote-controlled Ironlak can."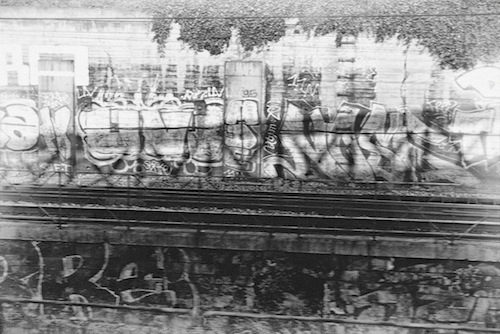 Or forget the heights: what about what's below eye level, or closer than the natural visual plane can patrol, irritating the optical angle of repose? The RER B from Gare du Nord to the airport is a bunker of Babel, a post-industrial Tapestry of Bayeux, running mostly beneath the kudzu or the ivy, whatever it is. This trench of tattoos and gnomic nomenclature goes by so quickly you can't assemble it into a whole, leastwise with a camera: increasing the shutter speed sufficiently to freeze the motion, even when pointing as far down the track as possible, usually means underexposing the image, despite the aperture's extreme dilation and a higher ISO setting. Try to buy yourself some elbowroom with an 18mm lens, and the graffiti is still too close; drop much below 15mm and the railway line starts to fish-eye sort of silly. If you're returning from the States—as I was, from a funeral—jetlag and grief aggravate the locomotive fog. You imagine you see the spectral tagger, hopping the switchbacks and voltage bins. Then: autofocus reconsiders, and the inside of the car is etched, as well—you realize you've been looking through a Plexiglas glossolalia all this time. People on the platforms see, and are seen by, those of us on the train, with graffiti a scrimshaw between us—as if watching one another through the scratched celluloid of a Stan Brakhage film, or a wet plate collodion glass negative of Antietam by Sally Mann. To say nothing of the double exposure of outer graffiti glimpsed through graffiti within.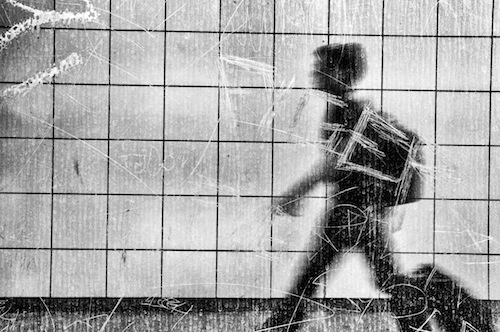 "Every grouping or landscape image," Gail Scott observes in her episodic travelogue My Paris, is "embossed with [the] photographer's unconscious." Every swath of graffiti is, as well. For what's graffiti if not a frantic, semantic geography—rainbows and shooting stars, vertically verbal, omens out of the heavens and weather, lathered to scrap iron doors? A haptic topographical map of peeling plaster, metro tile, fiberglass and aluminum siding, cinder block and telecom truck, storage garages galore. No landscape can be entirely contained within any frame, of course, and the hardship is arguably compounded in a city—all angle and bevel, intersection and fracture, a tourist or lamppost eclipsing the apocryphal clear shot—, as the New York images of Berenice Abbott, say, so beautifully demonstrated. But insofar as graffiti is intentional, for gawking and admiring, you wonder what's at stake when you can't see a scrip-scape all at once. Are we meant to be frustrated by this evasion of the sum? Are we being forced to reconstruct the scene—here a vantage, there a view—through a Cubist accumulation of refractions and perspectives, like bit torrents stitched together over time? Was the painter laughing at us in advance, from afar? Any photograph you might venture of graffiti nestled in among a series of interpolated rooftops would only prove, in a banal way, that the stuff was, in fact, up there. In this age of sinister, hyperactive surveillance, graffiti's recalcitrance to spectacular enclosure suggests a minor, but nevertheless feisty, political mechanism. Regardless of its election-year call to arms—from Nik les Fliks (Fuk the kops) to Faisons Payer les Banques Pas les Peuples (let's make the banks pay, not the people)—, graffiti evades the totalitarian gaze. Resilient to the insidious, often imperceptible technologies deployed by the panopticon of global capital, it "occupies" the wall and the street alike.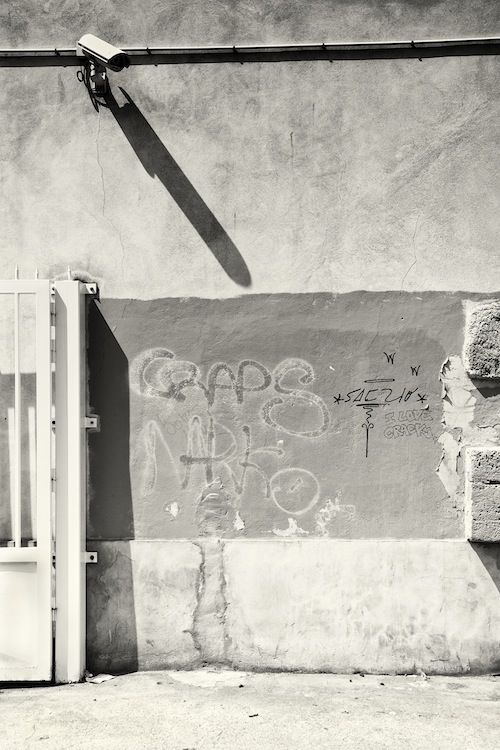 Recently I saw one of the grinning cats, reminiscent of Radiohead's toothy logo, that filmmaker Chris Marker follows with such fondness and revolutionary faith in Chats perchés. She was indeed perched amid a few crisscrossing roofs, and my effort to record her meant standing on the entry ramp to a women's boutique, where I bothered shoppers coming in and out, eventually the staff as well. Flaubert, whose letter Gail Scott was reprising, must have heard analogous gripes from his companion, Maxine Du Camp: the latter's 168 photos from their 1849 voyage to Egypt were all done via calotype, which required exposure times of two minutes. (In the end, my shutter opened for 1/800 of a second—that's 96,000 times faster.) I ducked under a tree instead, whose leaves never failed to crowd the vista. Focus on the feline and wash out the foliage, coaxing the leaves into makeshift vignette, or tighten the f-stop and hope for a legible border? Then it hit me: this is exactly how we're supposed to see the cat, sunning herself on a veranda—the light was direct at 17h15—and peering down through the greenery, as though she were a lioness and Paris her Serengeti plain. (Dead giveaway: pigeons in the branches.) I don't know much about the cat artist, but the cache-cache and power dynamics of who's spying on whom seemed eminently Markerian. C is for chat, or cat, or "see." In Walter Benjamin's Arcades Project, "The city," according to convolute C, "is only apparently homogenous." Then an elderly man in tweed accosted me, on his way into a residence, to brag that he has "une vue splendide" of the animal—from his apartment on the sixth floor.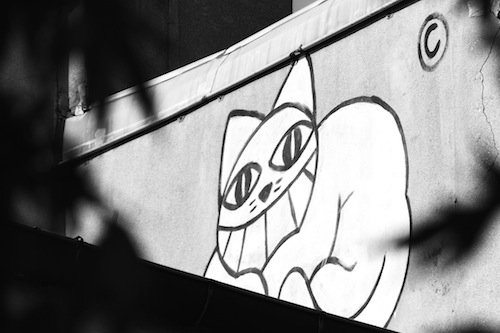 No words to this graffito—cat got my tongue, of course—but a single floating letter. A sort of free radical, if you will, if radicalism can be used in a sentence with "copyright"—or "free." I'm reminded that Banksy, the British graffitist famous for his movies too, including the documentary Faites les murs !, became—against his own wishes—the copyright holder of Wall and Piece, his photographic compendium of interventionist European street art. I spent some time with the book, across la rue des Récollets at Self Color, a digital imaging studio with a good bookstore on the ground floor (their old-school film labs are on la rue des Vinaigriers). Translated by Émilie Martin and published by Éditions Alternatives, Guerre et Spray, as it's titled in French, features front matter claiming: Copyright is for losers©™. Dickinson would have agreed with the spirit of the message, while the symbols contradicting the statement they're legally meant to protect indulge an irony analogous to her backtracking lexical practice. A century later, Jack Spicer refused to allow his books to be copyrighted, though he embargoed them from readerships beyond the Bay Area. Like Spicer's shadowboxing the fix, Banksy's agon with copyrighting stems from a hatred of capitalism. Those who most disfigure the landscape, Banksy claims in his brief preface, aren't the street painters, whose art is honest, but rather the corporations who scribble big slogans on buses and buildings, to make us feel inadequate if we don't buy their junk. They started the war, and in the absence of a forum for response, the site of saying no is the wall.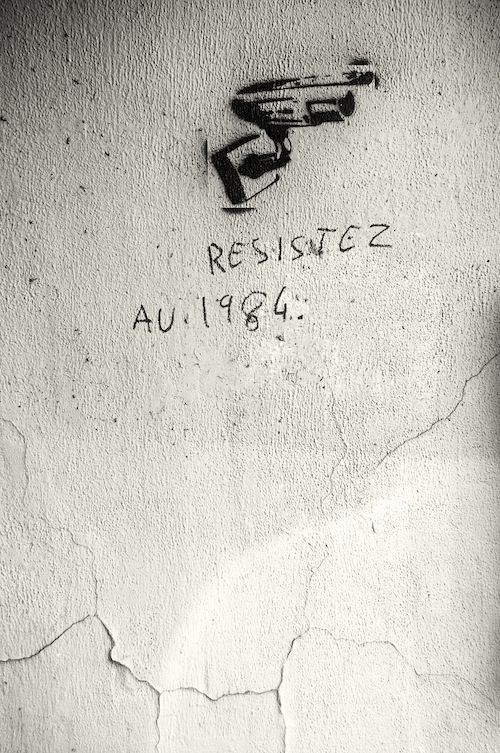 Andrew Zawacki is the author of three poetry books, most recently Petals of Zero Petals of One. His latest, Videotape, is due in spring from Counterpath Press. He is currently a fellow at la Résidence internationale Ville de Paris / Institut Français aux Récollets.

(If you would like to pitch an "Open Door" feature concept, please e-mail harriet@poetryfoundation.org with "Open Door" in the subject line.)
Andrew Zawacki is the author of four books of poetry: Videotape (2013), Petals of Zero Petals of One (2009), Anabranch (2004), and By Reason of Breakings (2002). His many chapbooks include Glassscape (2011), Zerogarden (2011), Roche limit (2010), Bartleby's Wastebook (2009), Videotape (2009), and Masquerade (2001). In his poems, Zawacki...