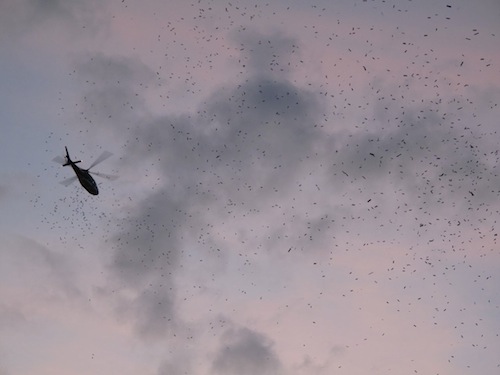 There's been a good deal of poetry-related activity with this summer's Olympics. Now there's this article in The Guardian that details an event to take place this Tuesday, when "Chilean arts collective Casagrande prepares to drop 100,000 poems from a helicopter over the south bank of the Thames."
More from the article:
The event, which opens what is being called the biggest gathering of poets in world history, Poetry Parnassus, will take place at 9.15pm on Tuesday over the Southbank Centre's Jubilee Gardens, next to the London Eye. The half-tonne of bookmark-shaped poems are by more than 300 contemporary poets from 204 countries, including Seamus Heaney, Jo Shapcott, Kay Ryan and Alain Mabanckou.

"We want to create an image in the sky over these urban spaces that were bombed in the past," said Cristóbal Bianchi from Casagrande, which has also dropped poems on Berlin, Warsaw, Guernica, Dubrovnik and Santiago. "The idea is to repeat this event in places which were bombed from the air in a completely different context."

The first "poetry bombing" took place in Chile, after dictator Augusto Pinochet was imprisoned, "as an outlet for the great joy we found in finally being able to express ourselves, particularly in public spaces", said Casagrande, which describes the event as "an expression of peace and healing".
Read the entire article, and watch a beautiful video of a past poetry bombing, here. Details on Casagrande here. Poetry Parnassus details here.