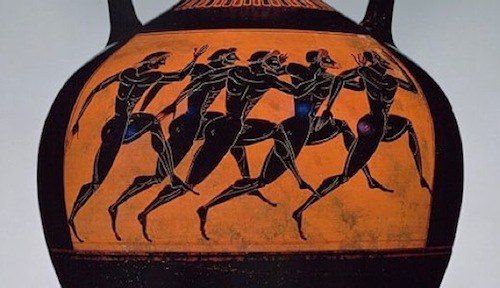 The Poetry Parnassus is happening now in London, and literature buffs are thrilled that international writers are catching some of the Olympic spotlight. But today, The New York Times explains that poetry has played a role in past Olympics. Of course, Ancient Greek poets were glamorous participants in the original contests:
Champion athletes commissioned great poets like Pindar to compose their victory odes, which were sung at lavish banquets by choruses of boys. (The refined cultural ambience could put contemporary opening ceremonies, with their parade of pop stars, to shame.) Philosophers and historians introduced cutting-edge work, while lesser-known poets set up stalls or orated from soapboxes.

Criticism could be meted out brutally: when the Sicilian dictator Dionysius presented subpar poems in 384 B.C., disgusted sports fans beat him up and trashed his tent.
When the Olympics were revived over a century ago, it was not long before officials attempted to incorporate the arts. Unfortunately, lackluster poetry and stringent rules caused the "Pentathlon of the Muses" to die.
...the inclusion of Olympic verse quickly proved contentious, provoking an outcry from highly competitive intellectuals. In 1912, Swedish art academies objected to the sports-only theme, declaring that the contests "totally lacked a meaningful purpose," according to the historian Richard Stanton in "The Forgotten Olympic Art Competitions." And the rule that contestants must be amateurs was absurd when applied to the arts, critics argued, since only serious practitioners were worth including.

Indeed, the most famous authors of the era refrained from the Pentathlon of the Muses, lending a homespun, sideshow quality to the contests. How could it not when the gold for literature in the 1924 Paris Olympics, for example, went not to T. S. Eliot or Jean Cocteau but to one Géo-Charles, nom de plume of Charles Louis Prosper Guyot, for "Jeux Olympiques," an evocation of the hammer-throwing and foot races?
Hopefully, the Poetry Parnassus proves more successful. Full story here.