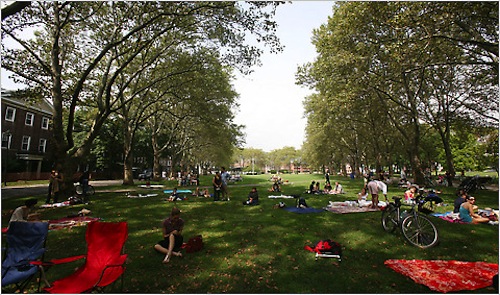 Once again, the summer brings booze, popsicles, daisies, and poetry together!
So here's your guide to the sunniest poetry festivals on the East Coast. Get your bums to POPSICKLE in June and THE NEW YORK CITY POETRY FESTIVAL in July! And if that's not enough, head to Boston in August for THE DOG DAY POETRY MARATHOON.
1. POPSICKLE FESTIVAL, June 23, 12:00 PM to 8:00 PM, at The Paper Box, 17 Meadow Street, Brooklyn. Facebook event page is here.
POPSICKLE Festival comes together June 23rd to celebrate Brooklyn's enthusiastic and varied lit scene with a day-long megareading. Featuring readings from Laurie Weeks, Christine Hamm, Ben Fama, Eduardo C. Corral, Andrew Durbin, Bryan Beck, Aubrie Marrin, KD Henley, Ryan Doyle May, Paul Legault, Monica McClure, and many others. Paper Box, a newly-opened arts hub in Bushwick, Brooklyn, will host.
Coldfront just interviewed Popsickle co-founder and curator Niina Pollari, who remarks on her third year of using unique spaces for the fest: "I love public space, I love non-bar space. Of course there is always the option to participate in buying books and drinks, but when a reading takes place in a bar, it's as if the transaction is mandatory and I don't think it should be." And oh, memories: "At the end of last year's program, everyone had been listening to readers and sweating buckets for hours, and Ariana Reines read one poem and then said she would be finished so everyone could go cool off. But the crowd asked for more poems so she kept reading. It was a very beautiful moment."
2. The 2nd Annual New York City Poetry Festival, July 21st & 22nd, 11:00 AM to 5:00 PM. Governors Island, Colonel's Row. Pre-sale tickets: $5 for both days; day-of tickets: $5 per day. For a complete schedule of events, click here. And bring your own poetry to read at the open mic Ring of Daisies!
More info from the site:
This year we've got more series, more poets, more headliners, more vendors, an additional arts and crafts village, healthy and delicious food options [though, yes iced coffee and yes ice cream], and a brand new children's festival!

Some poets we can't wait to see: Mark Strand, Patricia Smith, Thomas Sayers Ellis, Amber Tamblyn, Valzhyna Mort, Cornelius Eady, Jennifer Michael Hecht, Joanna Furhman, Jennifer L. Knox, CAConrad, Maggie Nelson, Dorothea Lasky, Timothy Donnelly

Featuring: A: Argos Books, Augury Books, B: Boundless Tales, Bowery Books, Bow Wow @ BPC, Blue Flower Arts, Brats, C: Cave Canem, Coldfront, Cornelia Street Graduate Reading Series, COUPLET, D: DDay Productions, Deadly Chaps, Drunknsailor, E: Earshot, Exit Strata, Explosion Proof, F: Feminist Writer's Organization, Fireside Follies, Futurepoem, G: Gigantic, great weather for media H: The Highwaymen NYC, I: InDigest Magazine, Italian American Writer's Association, The Inspired Word, K: KGB Monday Night Poetry Series, Kundiman L: Local Word, louderARTS, M: Madhat, The Mom Egg, Moonshot Magazine, My Brother's Keeper, N: New School Poets Corner, New York Quarterly, No Dear Magazine, O: La Otra Orilla, P: Patasola's Parlor, PEN American, PeopleHerd, Ping Pong, The Poetry Brothel, Poets House, R: The Red Wheelbarrow Poets Series S: Southern Writers Reading Series, Stain of Poetry, Stonecutter, T: TOTEM, The Truth Urban Theater Group & I Am the Voice, U: Underwater New York, V: Vets and Poets, W: The White Swallows Reading Series
And one more for you New Englanders:
3. The Dog Day Poetry Marathon, August 17-19, Boston. The event will be in Cambridge at Outpost 186 (186 1/2 Hampshire St., Inman Square, Cambridge) from Friday evening to Sunday afternoon:
This year we're switching things up a bit. We're going to have the familiar 8-minute slots for poetry readings, and we're also excited to include a limited number of 15-minute "talk" slots.
Can't wait for their lineup. More on that to come, but save the date. See you in the heat!