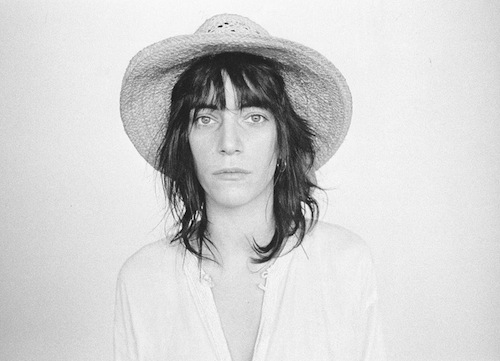 Check out this UbuWeb page that has various early Patti Smith poetry readings and early rock shows.
From the page:
Patti Smith moved to New York in the late 1960s and, over the next few years, while living with photographer Robert Mapplethorpe, established a reputation as a writer of fierce vision and uncompromising originality. She trafficked in the underground theater scene (where she collaborated with playwright Sam Shepard on the play Cowboy Mouth) and published poems in small press editions, which, along with her published rock criticism, established Smith in the New York arts scene of the early 1970s.

Her February 1971 poetry reading at St. Mark's Church, where rock critic Lenny Kaye joined her for three songs on guitar, opened the door for her future recordings. The two hit it off right away, discovering a shared interest in obscure rock records. Two years later, Smith and Kaye reunited for a concert in celebration of Rimbaud, and the seeds for a band were sown. Adding Richard Sohl on piano the following year, the trio found regular gigs in and around New York.
Go!