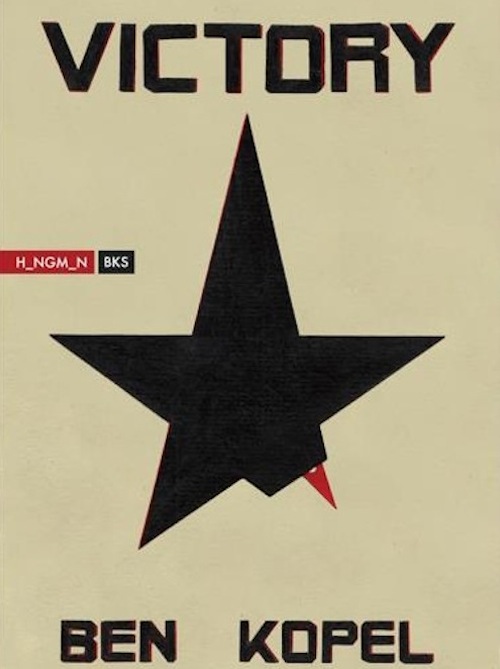 Megan Volpert reviews New Orleans-based poet Ben Kopel's first book, Victory (H_NGM_N Books), for HTMLGIANT. There's some personal tough love: "I first heard of Kopel while I was pursuing an MFA at Louisiana State, where he was an undergrad. He was a nice kid, and after hearing just a half dozen of his poems, I knew he would shape up into an excellent writer. There was no significant fault to find, so I hated him." She then goes on about Iowa, a patio, and karaoke, until writing, "You are likely wondering how we have come this far without my evaluating anything that is actually in the book. Victory is a portrait of Ben Kopel, so it is essential that you understand what a unicorn he is." Here we go:
The opening poem contains many of the recurring ideas. "Gymnasium of the Sacred Heart" is on its surface a plea to have sympathy for two Catholic school skinheads breaking into a car while high from huffing cleaning products. Ben Kopel is not an apologist for the criminal and evil elements that slide among us. He is making a Herculean gesture of commitment to silver linings. He appreciates that everyone is damaged. He cries out as a wounded animal on behalf of those too macho to do it themselves. "Don't disown your skinny fisted sons / locked inside the locker room. / They too are the father of you. / They too are mostly made of noise." Kopel is screaming, and it evolves into rocking out. He will "sing for the canary gassed beyond belief / in the basement of the Biology building." It's not that we move on or we look past. It's that we press on with this baggage on our collective sleeve. Why? The title of the poem that begins the book's second section: "because we must."

This poem features some kids who "have burned / down the Dairy Queen again." Kopel assures us "Everyone died warm / & no one was alone." Is it too childish to quietly hope for this, or even less practically to shout this at the sky? Nope. The third section begins with a conversation that juxtaposes the Holocaust and astronauts. This one hangs together under the title of "The Birthday Party." It's not Kopel's birthday. He's just a guest, falling in love with the spaceman's fiancé whose family tree was trimmed by world war. Still, they party. How?

This third section contains the first of only two literal mentions of victory in the book. In "Bar Fight #2," the events take place "Like clockwork. Part mutilation. // Part victory. Part garden." Time marches; we hurt; we carry on; this is innocent. The middle section begins with the fact that "We all recognize the need / to alter the ending." Ben Kopel doesn't turn off the movie before Old Yeller gets shot. He just envisions a better possible ending, a la Springsteen's "Badlands." Maybe it exists in another universe. Section five ends with "Teenage Victory Poem," that digs "Way down deep in the bored demographic." Somewhere, the kids are living happily ever after and they "made some great noises together."

Barreling into the end of this pitch-perfect ode to the bloody but unbowed, section six opens with a tiny poem that bears reprinting in it's [sic] entirety.
Read that poem and the rest of the review here.
You can also watch Kopel do his best Dylan below, and check out this interview with the poet on BOMBLOG.
http://vimeo.com/35934716