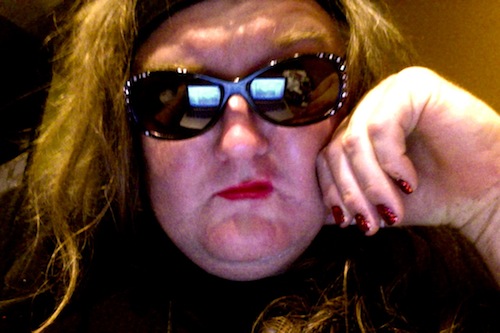 After news of this decision by the Boy Scouts of America upholding the policy of excluding openly gay leaders and members, poet CAConrad has launched his own organization—Queer Scouts of America. From CA's blog:
In honor of the July, 2012 Boy Scouts of America vote to once again exclude gay scout leaders and queer boy scouts I am starting QUEER SCOUTS OF AMERICA!! The Boy Scouts of America have proven to be irresponsible with the lives of young American boys. To shame and degrade queer youth and to instill in the heterosexual boys a sense of pride in not being queer -- which as we all know often leads to sanctioning violence against queer youth -- THIS, THIS IS UNACCEPTABLE!

We don't need their stupid merit badges for learning to start a fire without matches, we'll be busy learning the ways to find our strength and pride in beings sissies. While the boy scouts are busy pitching tents in mosquito infested woods, we'll be learning the proper technique to applying REAL glitter to our nails, a trade secret handed down from drag queens of yore. While the boy scouts are busy preparing boys to be obedient and serve the commonwealth, even prepare them for future military service to serve the corporate-wealth, QUEER SCOUTS will be busy defying the racist, misogynistic, multi-billion dollar military industrial complex and ALL who serve it!! We will prepare a generation of highly intelligent, motivated queer youth to take up some room and rebel, rebel, REBEL!!

QUEER SCOUTS OF AMERICA will not allow the queer youth to be abandoned!! We will start OUR OWN AMERICAN REVOLUTION where the rich white power structure fails to acknowledge our right to be beautiful AND LIVE OUR LIVES EXACTLY AS WE CHOOSE TO LIVE THEM!! We will appear at shopping malls across this magnificent country with our QUEER SCOUTS OF AMERICA fundraising tables selling nail polish, glitter, makeup and special edition QUEER SCOUTS OF AMERICA GO-GO BOOTS!! And with that money we will BUY EVEN MORE nail polish, glitter, makeup and special edition QUEER SCOUTS OF AMERICA GO-GO BOOTS!! And we will keep raising money to buy even more until the makeup, glitter and go-go boot factories keep producing as much as they can, UNTIL AMERICA IS FILLED WITH GLITTER AND MAKEUP AND QUEER SCOUTS OF AMERICA GO-GO BOOTS!! We will SHOW THEM AND WE WILL ECLIPSE their mean-spirited, evil Christian association of American boys with their BORING handkerchief scarves and Swiss army knives!!

At QUEER SCOUTS OF AMERICA we DEMAND THAT LOVE AND KINDNESS BE ALLOWED TO FLOURISH AND SAVE THIS DOOMED AND TILTING NATION!! Please contact Head Scout Queen CAConrad at CAConrad13@aol.com
Join now!!!