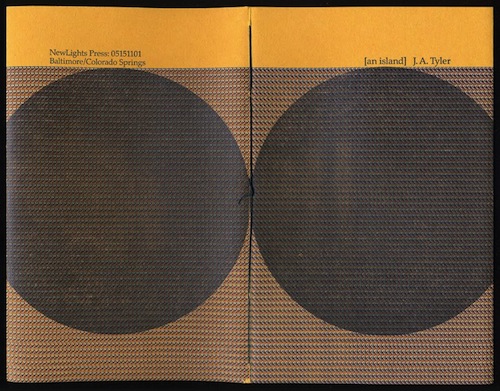 The NewLights Press, a Colorado Springs-based independent publisher of experimental writing and artists' books, is "fighting fire with literature," contributing all proceeds from sales of their books and broadsides to the Red Cross to assist people displaced by Colorado wildfires. The sale's centerpiece is their newest publication, "Colo-radical" J. A. Tyler's ZZZZZZZZZZZZZ [an island]. It's been reduced to $10 and seems quite interestin'. Turns out that the book is part of "a collaborative project done in conjunction with other small presses and one online journal, all who are releasing their part of the project today."
Below is the author's description of the project, with links to the other pieces:
ZZZZZZZZZZZZZ is wreckage. ZZZZZZZZZZZZZ takes place as five distinct works, all built around the same core story. Each narrative is that of a girl who holds the last water in the world, a herd of chaos that takes it from her, and the boy who comes to resuscitate it all. But each story takes this kernel and shreds it in a new direction, incorporates other elements, reshapes the narrative in its own image. And each press that came aboard this project, releasing this wreckage into readers' hands, worked on the same principle of core unity with distinct press-specific alterations. All that is left is the beautiful static hum: zzzzzzzzzzzzz.

Thanks to the following presses and their editors and journals, where you can gather
ZZZZZZZZZZZZZ:

ZZZZZZZZZZZZZ [a well]: Greying Ghost (Carl Annarummo)
ZZZZZZZZZZZZZ [the stars]: Warm Milk Printing Press (Ben Spivey)
ZZZZZZZZZZZZZ [this town]: The Collagist (Matt Bell)
ZZZZZZZZZZZZZ [an island]: NewLights Press (Aaron Cohick)
As for the cause:
As I'm sure many of you know, our home city, Colorado Springs, has been fighting a very serious wildfire since Saturday. The fire tripled in size from Monday to Tuesday. Parts of the city have burned. Over 32,000 people have been evacuated from their homes. Team NewLights is luckily, thankfully, away from the danger zone (though we are much closer to the evacuation zone than I ever thought we would be when this thing began). And this is just one of many fires burning in Colorado and all over the western US. So always the question: what can we do?

The answer: what we do—make & distribute books. And so on that note, effective today, is the FIGHT FIRE WITH LITERATURE BENEFIT SALE. All money from the sale of all NewLights books & broadsides will be donated to the local Red Cross to help them help people who have been displaced by the fires.
Give to the project, check out the NewLights Press books, broadsides, digital archive, and more here.