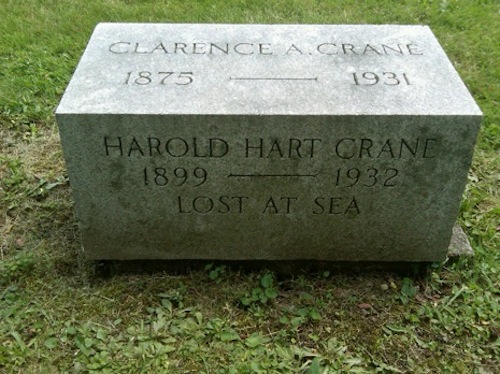 Check out this New Yorker piece in which Henri Cole writes about his visit to Hart Crane's grave in small town America.
Here's a taste:
Driving home from the Midwest, I stopped in Garrettsville, Ohio, to visit the Crane family plot, where there is a memorial to the oblique, tortured, intensely American poet Hart Crane, who is one of my liberators. From the start, I was drawn to poems that resisted my intelligence. And in the poems of Hart Crane I found this resistance especially exciting because they were by a homosexual often writing about love. Pain glitters on the edges of them.

When I arrived, it was raining lightly and the purple rhododendrons were drinking thirstily. Honeybees climbed inside the plush blossoms, and cicadas made a loud, intense, zigzagging sound that radiated outward from the landscape.
Then, a bit later:
Garrettsville is not a cosmopolitan center. It was late morning when I arrived, and Main Street was bathed in a sepia glow. I don't know when it had ceased breathing, but everything seemed contained within a bell jar, an excellent metaphor for the struggles men and women must overcome in life. Still, I felt a nostalgia standing on the ground where Crane had stood when he'd come home for his father's funeral, an event that had "severely affected" him, according to the report ("Poets Death Linked with Loss of Father") in The New York Times published on April 29, 1932.

Garrettsville appears quite vividly in early poems like "Porphyro in Akron":

"Connais tu le pays …?"

Your mother sang that in a stuffy parlour
One summer day in a little town
Where you had started to grow.
And you were outside as soon as you
Could get away from the company
To find the only rose on the bush
In the front yard…
Make the jump to read the rest.